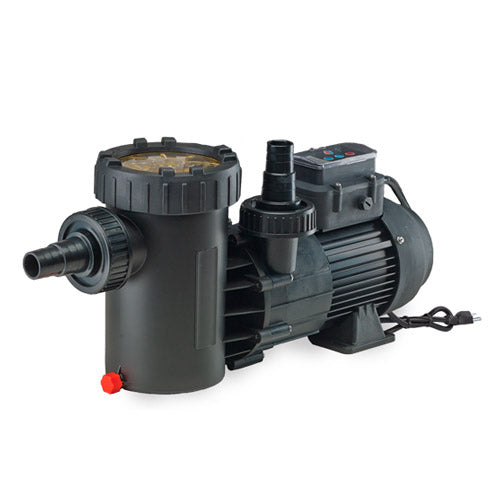 Speck Pumps Model E71-II Variable Speed Pumps
- Standard Plug
This item is IN STOCK
This item is TEMPORARILY OUT OF STOCK
Expedited Shipping NOT Available
Not Available Outside Contiguous US
Item Details
Speck Pumps Model E71-II Variable Speed Pumps
The Speck Pumps E71-II variable speed swimming pool pump is another example of Speck Pumps innovations to meet world energy and environmental challenges.

Features
Dual voltage variable speed pool pump for above-ground pools
High performance, medium head pump comes complete with an industry standard Carbon/Ceramic 5/8″ mechanical shaft seal for convenient replacement.
Non-corrosive, chemical/UV resistant, and can withstand temperatures of up to 150° F.
All New: Horizontal/Vertical discharge in one casing.
Suction and Discharge ports are equipped hose adapters.
For pool users' safety, the impeller has a dielectric shaft sleeve that provides absolute separation between the pool water and electric parts.
Specially constructed clear lid with lock ring design is easy to open. Strainer basket is always locked in place.
Reusable o-rings throughout.
Every pump is performance tested before leaving the Speck factory.
Motor runs on a wide voltage range 100-130/200-250V (no need to rewire to switch voltage). Automatically detects 115 or 230V.
Built-in controller, LED Screen & keypad can be locked for safety.
3 Adjustable Power Levels – Levels can be set to range from 50 Watts/1000 RPM to 1000 Watts/3500 RPM (in increments of 10 Watts).
Programmable high efficiency TEFC (totally enclosed fan cooled) maintenance-free permanent magnet brushless 48 frame motor.
Specifications:
Horsepower: 1.1 THP
Speed: Variable Speed Motor
Voltage: 115-230
Frame: 48 Frame Thru-Bolt Mount
Controller: Built-In
Cord:3' Cord with Optional Plug Type
Intake/Discharge: Includes hose connectors for 1-1/4" and 1-1/2" Hoses.