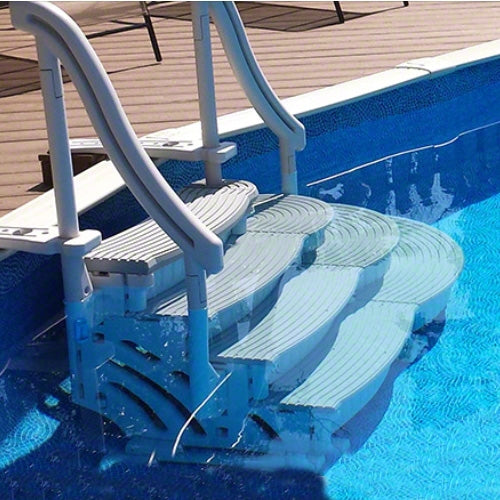 Confer Plastics 4-Step Confer Curve Stairs Add On - CCX-ADD
This item is IN STOCK
This item is TEMPORARILY OUT OF STOCK
Usually Ships Within 2 to 5 Business Days
Expedited Shipping NOT Available
Not Available Outside Contiguous US
Item Details
Confer Plastics 4-Step Confer Curve Stairs Add On
This elegantly designed curved 4-Step staircase can be conveniently added onto the standard 4-step stair set. This additional piece to the base, 4-tread staircase brings a wider stair-set as well as a full curve. The beige staircase with gray treads owns a unique design with curved stairs that can be assembled to curve in or out depending on the swimmers preference. This piece is shaped as a quarter of a wedding cake and can snap-fit right on the end of the base staircase. The handrails are perfectly sloped to include style and comfort ability. The base pads on this stair-set are adjustable to fit any pool floor - even if the floor is slightly dished in. This durable staircase can withstand up to 400 pounds at one time and is simple to install and assemble with no hardware required.
4-Step Confer Curve Stair Add-on Features:
Universal 4-Step Extension Set
Works with In-Ground and Above Ground Pool Ladders
Complete Curve with Wedding Cake Shaped Design
Snap-Fits right on the end of the base stair-set
Graceful Curve with Beige Staircase and Gray Treads
Can be assembled to curve treads inwards or outwards
Adjustable base pads to fit any pool floor, even dished pools
Elegant, yet sturdy and durable
Holds 400 Pounds at one time
Easy to assemble and install with no hardware
Simple Access ability for those who aren't as mobile
No Climbing pool ladders which can result in accidents
Can link to base 4-Step Staircase (CCX-AG - Not Included)
4-Step Confer Curve Stair Add-on Specifications:
Tread Width: 27"
Tread Depth: 10"
Riser Height: 11"
Unit Depth: 32"
Handrail Height (From Top Step): 30"
Height to Top Tread: 47"
Overall Outside Width: 38"
Complete Curve System Width: 58"
Works with the following Confer Plastics Stairs:
This Product Replaces:
Confer Plastics CCX-ADD