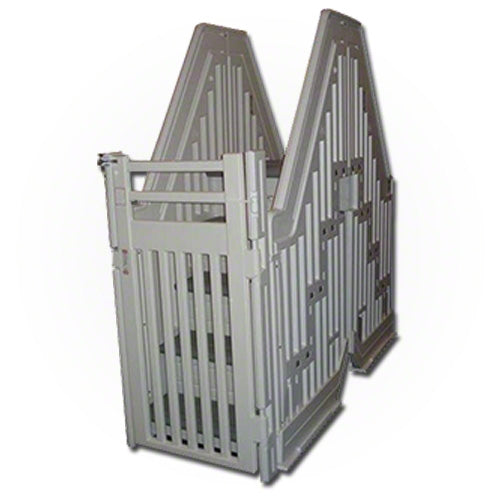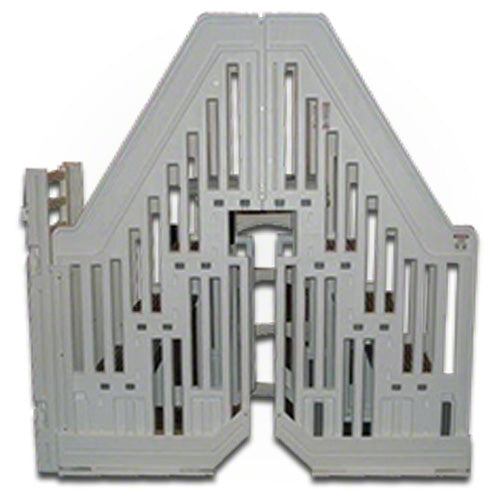 Confer Plastics 5-Step Pool Entry System Bridge PES-DBL-X
This item is IN STOCK
This item is TEMPORARILY OUT OF STOCK
Usually Ships Within 2 to 5 Business Days
Expedited Shipping NOT Available
Not Available Outside Contiguous US
Item Details
Confer Plastics 5-Step Pool Entry System Bridge PES-DBL-X
The Pool Entry System staircase is for above ground pools and provides appealing aspects to onlookers. This unique design accompanies all swimmers and is specific for elderly and physically challenged swimmers to allow for an easy access into the pool. The gray treads are easily visible under the water and have non-slip tread material for safety. The suggested weight limit is about 400 pounds for this staircase.
This is the conjoined together staircase that goes inside and outside the pool that makes a complete entry and exit staircase system. Steps and risers snap into the side panels and are held together with plastic wedges for easy assembly. The stairs are adjustable to fit pools that are 48" to 54" tall with the top step above the pool top rail. Staircases include gate to deny access to unauthorized swimmers.
The plastic materials that make up the staircase will not affect the pool chemistry and will not deteriorate or corrode over time. There is a free flow of water underneath the stairs which inhibits pool algae growth. Altogether this staircase design provides high safety qualities, durability and attractive features that are appealing to the eye.
Pool Entry System Features:
Two Combined Safe Staircases for Above Ground Pools
Complete Entry and Exit Staircase System
Staircase Bridge
Includes Gate with Padlock to Deny Access to Unauthorized Swimmers
Gate is Self-Closing and Self-Latching; Padlock included for extra security
Attractive Design with Bridge Style
Extremely useful to elderly swimmers and physically challenged swimmers
Easy Pool Access with 5 Steps and Side Rails
Non-Slip Gray Treads Provide Easy Visibility Under the Water
Suggested Weight Limit is 400 Pounds
Snap-Lock Technology for Easy Assembly
Does not rest on or attach to pool
Adjustable to fit pools that are 48" to 54" tall
Durable and Reliable throughout time
Plastic will not affect pool chemistry and won't corrode over time
Side openings allow water to circulate through unit which inhibits pool algae growth
Meets Current ANSI/NSPI Standards
Pool Entry System Specifications:
Overall Projection into the Pool: 36"
Overall Height: 81" (Plus 6" adjustability range)
Overall Width: 31"
Step: 10" X 27"
Top Platform: 12" X 27"
Handrail Height (from top step): 32"
Riser Height: 11"
Confer Plastics PES-DBL-X