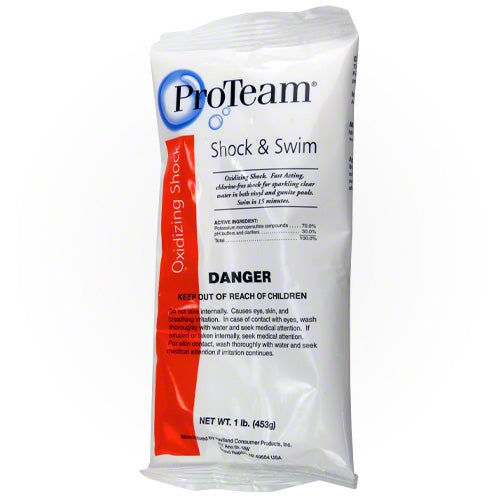 ProTeam Shock and Swim (Chlorine Free) - 1 lb. Bag
This item is IN STOCK
This item is TEMPORARILY OUT OF STOCK
Usually Ships Within 1 Business Day
Expedited Shipping NOT Available
Not Available Outside Contiguous US
Item Details
ProTeam Shock and Swim
ProTeam Shock and Swim is a fast acting, chlorine-free oxidizing shock that provides sparkling clear water without using harsh chemicals such as chlorine. Shock and Swim has one of the highest active ingredient contents of any non-chlorine shock on the market at 70% Potassium Monopersulfate. It also features pH buffers and clarifiers to increase water clarity and help provide a softer feel to the water.
Shock and Swim is perfect for weekly shock treatments to get rid of organic waste, oils and dead chlorine cells and increases the the amount of free chlorine in your pool. Shock and Swim is perfect for pools using either chlorine or bromine sanitizing systems and you can swim 15 minutes after use. One of the main benefits to a non-chlorine shock is if your bromine or chlorine levels are already in the proper range it won't create a huge, unwanted bromine or chlorine bounce. Shock and Swim is non-bleaching, pH neutral and safe for all pool types.
Features:
Fast-acting, chlorine free pool shock
pH buffers and clarifiers
Improves water clarity and improves the feel of the water
Eliminates organic waste, oils, and chlorine smells
1 Pound Bag
Directions for use:
Add 1 pound per 10,000 gallons of pool water every week or when the water appears dull or cloudy. Broadcast directly onto the water surface and allow 15 minutes before resuming swimming.
Ingredients:
Potassium monopersulfate 70%
pH buffers and clarifiers 30%
Total Ingredients 100%
ProTeam Shock and Swim