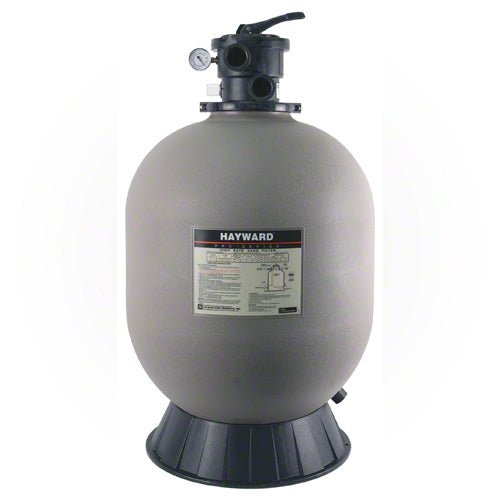 Hayward ProSeries High Rate Top Mount Sand Filter W3S220T
This item is IN STOCK
This item is TEMPORARILY OUT OF STOCK
Usually Ships Within 1 Business Day
Expedited Shipping NOT Available
Not Available Outside Contiguous US
Item Details
Hayward ProSeries High Rate Top Mount Sand Filter W3S220T
The ProSeries Top Mount Sand Filter uses High-Rate flow technology which is the most innovative in pool filter technology. ProSeries are molded of durable, corrosion-proof polymeric material which will be outlasting among other filters. Also ProSeries features a unitized tank construction, giving you years of use with minimal check-up and a continuous, hassle-free experience. The applications served by this filter include In-ground pools of all types and sizes, In-ground spas (residential or commercial), and water features such as fish ponds, fountains, and water gardens.
Equipped with full-size internal piping, this filter provides smooth, free-flowing performance. In addition the integral top diffuser ensures calm and even distribution of water over the top of the sand media bed. The flange on the top side of the filter has a clamp design that maneuvers at 360 degrees in rotation of valve which creates a work-mans choice of easy access and simplified plumbing. As if the maintenance couldn't get easier, the large pressure sand and water drain will make winterizing and servicing rapid and seemingly effortless.
It comes with a Vari-Flo Control Valve which is a high-performance, adaptable valve that allows you to choose from any of the seven positions and functions. This valve has simple maneuverability, lever-action where you can dial into a filter option. The integral sight glass lets you physically view when the backwash cycle is finished. The umbrella-fold self cleaning laterals are precisely engineered for balanced flow and back washing, high performance, and easy serviceability.
ProSeries Top Mount Filter Features:
22-1/2" Sand Filter Tank
2.64 Square Foot Effective Filtration Area
52 Gallons Per Minute Flow Rate
24,960 Gallons Turnover in 8 Hours
1-1/2" Plumbing, Vari-Flo Valve with 7 filter operation modes.
360 degree rotating flange clamp design for simplified plumbing.
Top diffuser evenly distributes water.
Full size internal piping provides smooth, free-flowing performance.
Large pressure sand and water drain.
Unitized, corrosion-proof filter. Colorfast polymeric material for dependable, all-weather performance.
Integral sight glass for visual examination of backwash cycle.
Precision engineered umbrella-fold self cleaning laterals.
250 pounds of sand are required but not included.
7-Position Valve Options:

Filter - For normal filtering and regular vacuuming.
Backwash - For cleaning filter sand bed of accumulated debris.
Rinse - Use after completing backwash cycle to ensure all dirty water is rinsed out of the filter to waste.
Waste - By-passes the filter for draining or lowering pool water level and for vacuuming heavy debris directly to waste line.
Recirculate - Water is recirculated through the valve, by-passing the filter.
Closed - Shuts off the flow from the pump to the filter.
Winter - For winterizing (SP0714T only).
Filter Dimensions:
22-1/2" Width X 41" Height, includes attached valve.
Hayward W3S220T