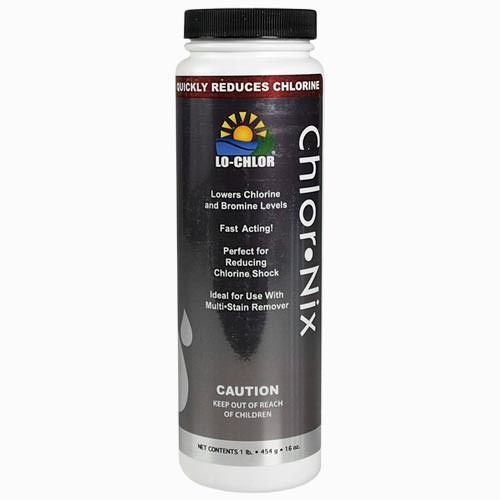 Lo-Chlor Chlor-Nix - 1 lb
This item is IN STOCK
This item is TEMPORARILY OUT OF STOCK
Usually Ships Within 1 Business Day
Expedited Shipping Available
Item Details
Lo-Chlor Chlor-Nix
Reduce chlorine levels quickly with Chlor-Nix. High chlorine levels can cause all sorts of problems for swimmers and pool products, making it important to keep a healthy balance in your pool. This product acts fast to allow swimmers to re-enter the water quickly after shocking the pool. Chlor-Nix also allows stain removers to work at their maximum potential, reducing delays. This product is safe for salt systems and only needs a small amount to begin reducing chlorine, making it perfect for any pool.
Lo-Chlor Chlor-Nix Features:
Fast-acting chlorine reducer
Concentrated formula
Easily and quickly reduces chlorine shock
Helps maximize efficiency of stain removers
Safe for salt systems
1 Pound
Directions for Use:
Add 2 oz (2 capfuls) of product per 15,000 gallons throughout pool water. Reduces chlorine by 1 ppm or bromine by 2 ppm.