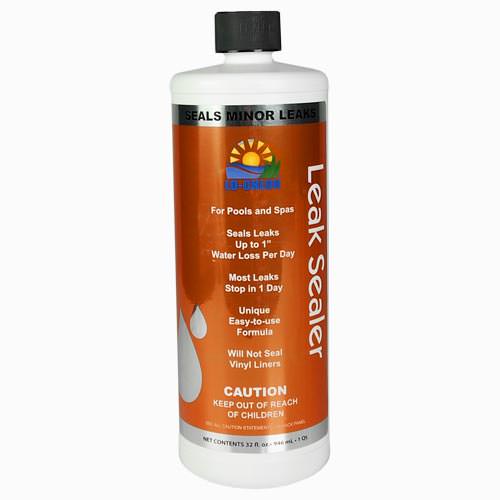 Lo-Chlor Leak Sealer - 32 oz
This item is IN STOCK
This item is TEMPORARILY OUT OF STOCK
Usually Ships Within 1 Business Day
Expedited Shipping Available
Item Details
Lo-Chlor Leak Sealer
Quickly and easily seal hard to find leaks in your pool or spa with Lo-Chlor Leak Sealer. This product seals leaks up to 1" water loss per day without any need to drain your pool or hot tub! Even if you don't know where the leak is, Leak Sealer will seal most leaks in 24 hours. If you know the location of the leak, simply pour in the general area. If you don't know where the leak is, add this product to the skimmer. Leak Sealer coagulates upon contact with the leak, effectively sealing and stopping water loss. This not only saves you time and energy, it also saves you money on damages and repairs.
Lo-Chlor Leak Sealer Features:
Hassle free repair for small leaks
Works in pools or hot tubs
Seals within 24 hours
Easy-to-use
Low cost
32 Ounces
Directions for Use:
Turn the pump off. If using in a pool with an automatic pool cleaner, remove it from the pool.
Set the filter on Bypass or Recirculate. If neither of these settings are available, remove grids or cartridges from the filter before treatment. Important Note for use in Spas: It is possible that fine fountain jets may block when Lo-Chlor Leak Sealer is applied.
Leak Sealer should be added at the rate of 1 qt. per 15,000 gallons (8 oz. per 14 m3) pool water. In spas, use 1 oz. per 500 gallons (1 oz. per 2 m3). There are 2 methods of application of Leak Sealer, depending on the location of the leak.
(a) Leak in the Pool/Spa Surface: If you are sure of the location of the leak (ex. around a light or the skimmer), pour Leak Sealer directly into the water in the vicinity of the leak.
(b) Leak in the Piping: Add the correct dose of Leak Sealer directly into the skimmer. Set up a pool vacuum hose with vacuum head attached as you would for normal pool cleaning. Place the vacuum head at the deepest point of the pool. Ensure that the hose is free of air. (This method ensures maximum circulation through the piping.) If unsure of the location of the leak, use method B.
Wait 30 minutes after adding Leak Sealer then turn the pump on. Leave pump running for a minimum of 8 hours.
Mark the water level and check in 24 hours.
A second application may be required in larger pools.
Return the filter setting to normal once the Leak Sealer has taken effect and resume normal filtration. Swimming may be resumed 24 hours after addition of the product.
Please Note:
Leak Sealer is designed to seal minor leaks (where the water level drops 1 inch per day in a 15,000 gallon pool). Larger leaks require conventional plumbing/repairs.
Will not seal vinyl liners.
Lo-Chlor LS023-12