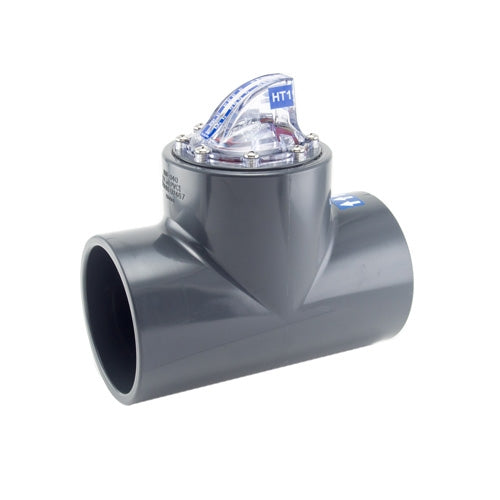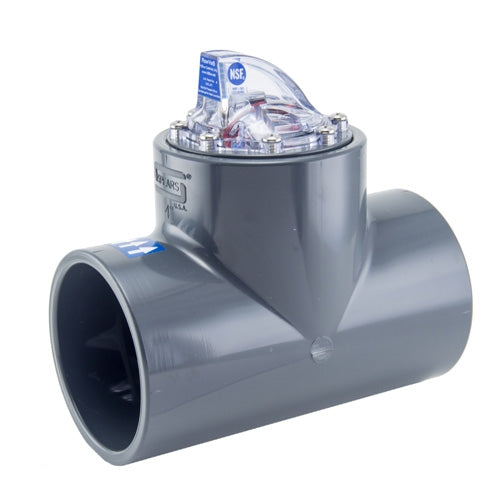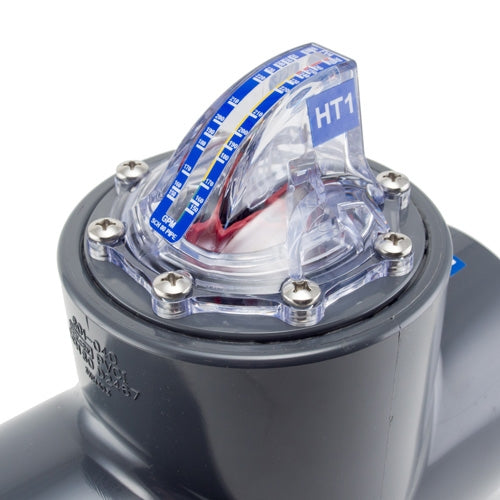 FlowVis Flow Meter with Tee 4"
This item is IN STOCK
This item is TEMPORARILY OUT OF STOCK
Usually Ships Within 1 Business Day
Expedited Shipping Available
Item Details
FlowVis Flow Meter with Tee FV-4
The FlowVis is a revolutionary, affordable, and highly accurate Flow Meter. The best part is that the FlowVis is more than a Flow Meter; it is also a fully functioning Check Valve. As flow increases and decreases, the Check Valve's flapper swings within its range of motion. A specifically designed calibration spring, indicating arm, and an extended height valve body lid constitute the fundamentals of the FlowVis design concept.
The FlowVis is a revolution in reliable flow measurement. It is the most advanced, affordable, and reliable precision Flow Meter designed specifically for pools, spas, fountains, and water features.
FlowVis is built to last. It's robust, yet unobtrusive design means that unlike competing Flow Meters, FlowVis won't get kicked, tripped over, or broken. Unlike Pitot tube / Rotameter style devices, FlowVis will not stick, bounce, or provide inaccurate readings of flow. There are no saddle clamps to corrode, flat rubber seals to deteriorate, or small holes to become blocked.
A factor that plagues the installation of flow meters is the manufacturers' stated need to have a significant length of straight pipe available. Most often this is 15 x the pipe diameter. So, for a 2.5" diameter pipe, this would require 37.5" of straight pipe; anything less will induce even greater inaccuracy. FlowVis has no such restrictions; you can install it directly between two 90 degree elbows and maintain the same amazing accuracy!
Unlike other Flow Meters, the position in which FlowVis is installed (horizontal, vertical or relative to elbows and tees), has zero effect on its accuracy.
FlowVis Features:
For use with 4" Pipe
Includes Tee for 4" Schedule 80 Pipe
Measure flow rates from 160 to 300 GPM
Combined functionality of Flow Meter and Check Valve
Installation flexibility - far less space required than other flow meters
Unique design results in maintained accuracy even with entrained air caused by suction leaks.
FlowVis provides a precise, easy-to-read flow rate
Maximize energy savings by slowing the pump to its lowest required speed for pool sanitation
Allows precise and repeatable valve positioning for perfect water feature operation
Design life of 15 years with spring replacement every 7.5 years
Clear, easy to read scale
No calibration required
Accuracy of +/- 2 GPM
Rugged construction
Pressure tested to 50psi
NSF certified
5-year manufacturers breakage warranty
Assembled in the USA
The FlowVis has undergone exhaustive testing and calibration to ensure long life, accuracy, and repeatability. No other Flow Meter at this price point is NSF certified or comes remotely close to its +/- 2 GPM accuracy.
H2Flow FlowVis FV-4