11 Alternative Uses for Pool Noodles
As we edge more towards the end of summer and the beginning of the school year, you may be thinking about what you're going to do with all the excess pool toys crowding your yard. While you can deflate the lounge chairs and fold up the volleyball set, you may find yourself with more pool noodles than you know what to do with. Lucky for you, I've scoured the internet for the most interesting and helpful alternative uses for pool noodles. From your car, to your house, to keeping kids entertaining, here are 11 alternative uses for pool noodles.
Garage Door Bumpers
I can attest personally to the effectiveness of this first pool noodle use. If you have a particularly narrow garage or have children that regularly swing their doors open with reckless abandon, grab yourself two pool noodles and use a knife (and some supervision, if you are particularly accident prone) and cut them in half lengthwise so that you have four pieces of pool noodle. Line them up with your car doors (both front and back) so that the door will hit the noodle in the correct spot when opened without damaging the door. Secure them to the wall using bolts appropriate to the surface they screw into (mine were for cinder block).  Make sure that you're not opening the door right on the bolt heads. You can even glue a small piece of foam over the top of the bolts to remedy this problem.
Some posters also suggest using a high strength adhesive like gorilla glue to keep the noodles to the wall. I worry about the practicality of that suggestion where I live (Mountain West where the winters get particularly brutal).
Roof Racks
Another way a pool noodle can assist your car is with cargo. Roof racks can be expensive and cumbersome, but if you're an avid stand-up paddler or kayaker, they're totally necessary to preserve the integrity of your car. There are a few ways you can use noodles for this express purpose.
First, measure one or two noodles to fit the width of your roof and cut to size. If you have roof bars that run parallel to your car (like in the picture), use some strong rope and four carabineers to secure them to the bars. Now you can rest your cargo on your car without worry about it scratching your paint job (after being sure to lash everything down first, of course). If you don't have the cross bars, just place the noodles on the roof, put your kayak/SUP on top of them, and secure using tie downs.
Trampoline Spring Guards
Pool noodles are helpful for plenty more small, around-the-house projects. Let's start in the yard. Do you have a trampoline? Ever gotten toes pinched or hair caught in the metal springs that attach themselves to the ring supporting the tramp material? Pool noodles are great for saving yourself a few painful moments. Measure the length of the springs and count them in order to figure out how many noodles you'll need—some online estimations suggestion you'll need 8-10 of them. Cut down to size and attach by either removing the spring from the supportive ring and feeding through the center of the noodle segment or by slicing the noodle lengthwise until you get to the center and slipping it around the spring. It depends how difficult it is for you to get the spring inside. You can also choose several different colors to make for a fun and festive design that will also keep your fingers from getting pinched.
Floating Cooler
How about an alternative use for a pool noodle IN the pool? Floating coolers can be expensive, but they're really not that difficult to reproduce. First, you'll need a Tupperware with a slight lip on the edge so that the pool noodle has something to grip to. Line the pool noodle up with the sides of the Tupperware and cut two for the length of it and two for the width. Use a synthetic rope to thread through the four pieces and tie it tight around the Tupperware to keep it in place. Just fill with ice and drinks and you're good for a (hydrated) day in the pool.
If you have a glue that isn't water soluble, you could cut the noodle in half so that you have on flat side and glue it to the edges of a Tupperware. You might have to test it out first to see if the halves are enough to keep a weighed-down Tupperware afloat.
Toddler Bed Rail Guard
If you have kids, pool noodles are the solution to all kinds of common problems. Have a toddler who has recently moved into his/her big bed? Instead of buying those expensive rails that attach to the side of the bed frame, use a pool noodle under the sheet to create a protective barrier so your little one doesn't fall out while dozing. No cutting/sewing/construction required.
Bed Caster Covers
Speaking of kids' beds, the medal feet and casters that are a part of the bed frame are often the culprit for bruised, broken, and sprained toes. Walking in the dark can be rather treacherous and nothing hurts worse than smacking your toe against these solid medal casters. To prevent any shouted expletives or trip to the ER in the near future, use a knife or a long pair of sheers to trim off a piece of pool noodle the size of the post and make a long incision lengthwise to cover up the post. No more late-night injuries!
Door Stopper
They sell foam door-stoppers that you can attach on the side of any door you don't want slammed. Both the noise can be alarming and can be potentially harmful if any small fingers get squished in the process. Instead of paying something like $7 plus shipping for the manufactured version, just grab a pool noodle. You only have to cut something like 4-6 inches off of the top of a noodle and then make a long cut along the center so that you can hook it onto the door. Make sure you place it high enough that little kids can't remove it from the doors you want protected. Easy peasy! And no more slammed doors.
Marble Track
Don't worry—there are plenty more fun pool noodle alternative uses that are more about telling kids "yes!" instead of "no." How about making a fun, inexpensive marble track for your little ones to enjoy for hours? That's what plenty of mom and dads are figuring out all across the country because how cheap and easy it is. All you need to make this marble run are some pool noodles (depending on how long you want to make it, you could use one, two, or as many as your staircase can hold), some tape, and some marbles to race. Cut the noodles lengthwise so that you've exposed the divot in the center of the noodles. Tape together, making sure you aren't inhibiting the speed of the marbles going down the track, and dress up with a finish line or any other designs the kids may want to add. Set it up down some steps or pieces of furniture and let the races begin!
Noodle/Golf Tee Craft
Another easy craft can be made using just pieces of pool noodles and some golf tees. Cut a few different colors of pool noodles into various lengths and segments that are craft-friendly. Get a box of golf tees (preferably brightly colored) and let the kids make all kinds of creatures/adventurous crafts with the two inexpensive components. They can make robots, bugs, buildings—whatever their minds can come up with.
Wreath Form
If you're someone who's heavily into crafting, you can know how quickly the components can add up. With the current Pinterest craze of making wreaths for every holiday/season/mood, consider using a pool noodle for your wreath form instead of buying the sometimes-costly ones that are sold at big-box craft stories. To make these, cut the noodle to the preferred size for your wreath, then trim two ends at complementary angles and attach with duct tape. Be careful not to squeeze this part to hard so you don't get a misshapen wreath form. A second set of hands here is helpful. The rest is up to you!
Boot Inserts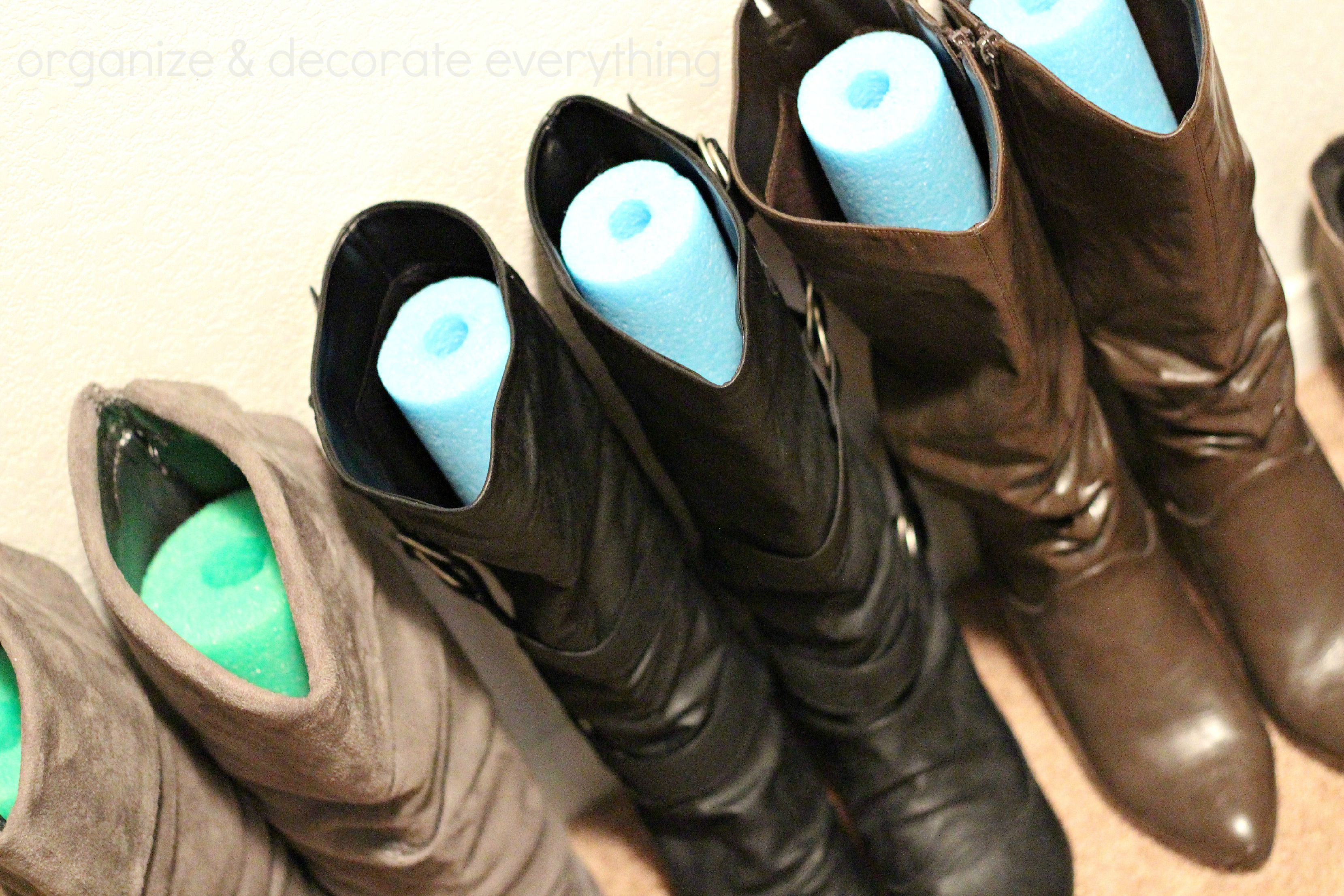 I figured I'd sandwich this post with two pool noodle-based crafts that I've actually done. The last one is VERY easy and one of the most useful use for them. If you're anything like me, you love wearing boots in the fall and the winter. Again, if you're anything like me, you hate storing them in the closet. They'd uncooperatively flop over onto one another, making space scarce and often scuffing up my beautiful boots in the process. I remember looking up storage solutions for my boots and finding ones that were something like $10+ per pair. Thanks again to Pinterest, I found this simple solution to my falling boot problem.
To make these boot-fillers, all you do is grab the pairs of boots you want to make these for, insert part of the pool noodle, and cut where you want the filler to end with a knife. Measure this against another piece of pool noodle so that you have two equal-sized inserts. I left mine a little higher than the boot itself so that they could be easily taken out.
So there you have it! Eleven super easy to do and useful alternative uses for pool noodles. Which ones are you the mostly likely to do? I can't wait to make a marble track for my niece and nephew. Happy crafting!