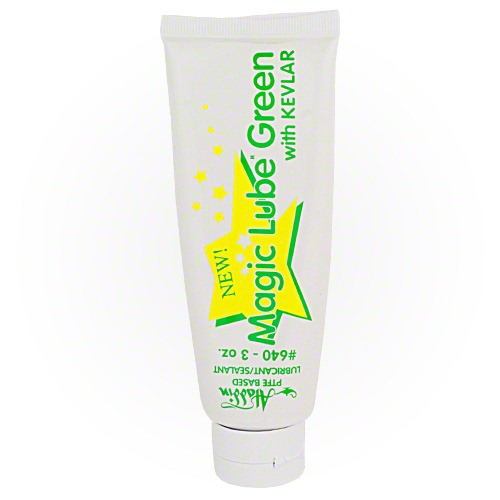 This item is IN STOCK
This item is TEMPORARILY OUT OF STOCK
Usually Ships Within 1 Business Day
Expedited Shipping Available
Item Details
Magic Lube Green with Kevlar - 3 Ounces

Aladdin's Magic Lube Green has been specially formulated to do the job of an all-purpose Pool and Spa lubricant/sealant providing optimum sealing and lubrication properties. Kevlar fiber provides enhanced sealing properties by a mechanism called "Bridging". During make-up, the Kevlar fibers intertwine to help hold the PTFE particles in place.
The webbing produced also guards against connection seizure by reducing the potential for metal-to-metal contact. The webbing also has the ability of self-healing any small leaks that may develop by entrapping other sealing particles. The bridging or webbing properties accelerates the damaging in the helical void in engaged threads. In layman's terms this means Magic Lube Green stays on the o-ring longer, providing greater protection.

Magic Lube Features:

Kevlar Fiber

Waterproof

All-purpose

Long Lasting

Chemical Resistant

Prevents rust and corrosion

Made in the USA

Magic Lube Applications:

Motors

Valves

O-rings

Gaskets

Bearings

Water Filters

And Many More...

ALaddin Magic Lube Green