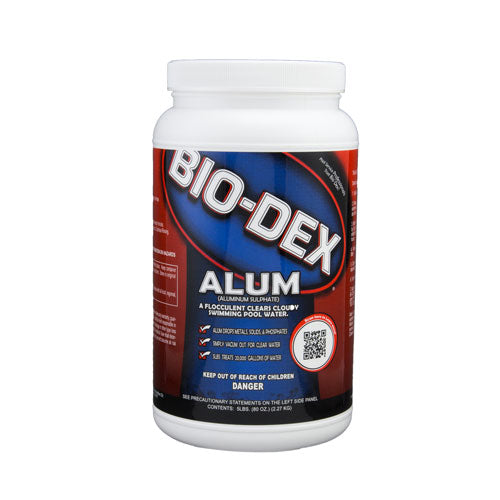 Bio-Dex Alum Flocculent - 5 lbs
This item is IN STOCK
This item is TEMPORARILY OUT OF STOCK
Usually Ships Within 1 Business Day
Expedited Shipping NOT Available
Not Available Outside Contiguous US
Item Details
Bio-Dex Alum
Alum works by dropping unwanted particles, phosphates, metals and impurities to the bottom of the pool to be vacuumed later for quick and permanent removal. This is the best product to use when water is saturated with heavy metals.
Features:
A flocculent clears cloudy swimming pool water
Alum drops metals, solids, and phosphates to the bottom of the pool
Simply vacuum out for clear water
5 lbs treats 20,000 gallons of water
Size:
Directions for Use:
Adjust water pH before use to 7.2 to 7.6
Slowly, pour one scoop (included) of Alum in the skimmer while the filter is running and broadcast the remainder while the filter is running and broadcast the remainder of the contents of container over the pool surface.
After 2 hours or when pressure gauge on filter increases by 5 psi, turn the filter off and wait for the dirt and debris to settle to the bottom of the pool. This may take up to 10 to 12 hours.
Vacuum the sediment ot waste. Do Not vacuum to the filter.
Clean the filter cartridges or backwash for 3-4 minutes depending on the filter type, until the water runs clear.
Turn the filter system back on.
Adjust the water pH to 7.4 to 7.6 and the total alkalinity to 80 to 12 ppm depending on the sanitizer being used.
Note: A second application might become necessary for extremely dirty water or very high metal content. High metals, use Aquadex 50 Stain Off after Alum application to remove stains and control metal problems.