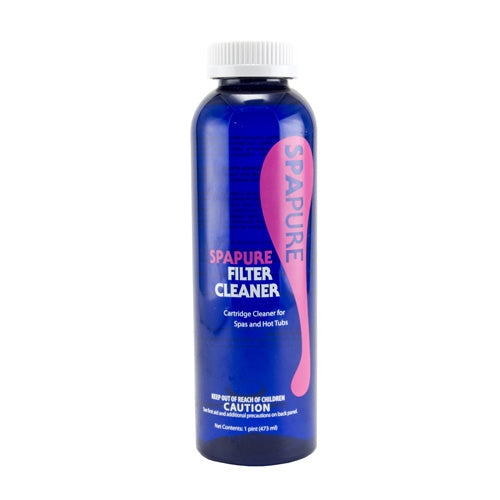 Spa Pure Filter Cleaner 16 oz
This item is IN STOCK
This item is TEMPORARILY OUT OF STOCK
Usually Ships Within 1 Business Day
Expedited Shipping Available
Item Details
Spa Pure Filter Cleaner
Spa Pure Filter Cleaner is a heavy duty filter cleaner for removing body oil, soapy residues, scale, and grime from cartridge filters. Using Spa Pure Filter Cleaner is important to help keep the water clean and clear. Regular use will increase filtering capacity and help maintain adequate water flow and circulation. This product is compatible with chlorine, bromine, biguanide, silver/mineral, and ozone-treated pools and spas.
Filter Cleaner Features:
Heavy duty filter cleaner for hot tub cartridges
Concentrated formula that deep cleans the filter to remove dirt, oil, grease, and scale
Can be used with cartridge, sand, or DE filters
Compatible with chlorine, bromine, Pristine Blue and biguanide sanitizers
Size:
Directions for Use:
Spraying Directly Onto Filter - Remove the filter from the spa and rinse of any excess debris from the pleats of the filter. Using a spray bottle (not provided) and spray Spa Pure Filter Cleaner directly onto the filter and work from the top to the bottom of the filter. Allow cleaner to stand for 15 minutes. Then rinse the filter completely and place the filter back into the spa and resume normal operation.
Soaking The Filter - If you prefer to clean you filter by soaking it in a cleaner, add 16 ounces of Spa Pure Filter Cleaner to 2 1/2 gallons of fresh water. Always add chemicals to the water, NEVER water to chemicals. Mix the solution thoroughly in an appropriate size container. Place the cartridge into the solution and let the filter soak for thirty to sixty minutes. DO NOT soak your filters in steel, metal or aluminum containers.
When comparing dosage amounts to other brands you will find that Spa Pure Filter Cleaner is the best value for your money.