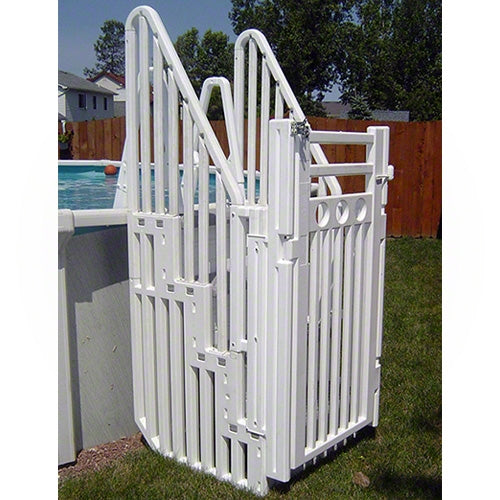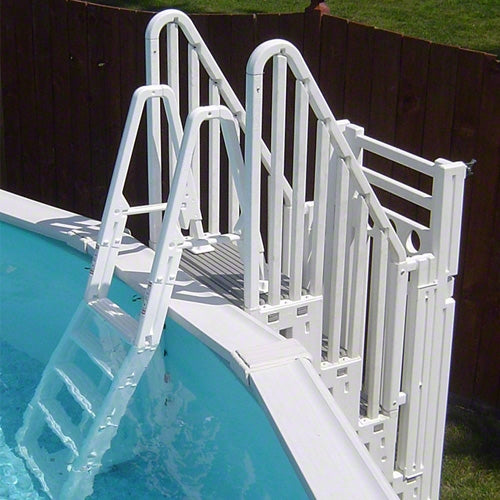 Confer Plastics Safe and Secure System SIG-X
This item is IN STOCK
This item is TEMPORARILY OUT OF STOCK
Usually Ships Within 2 to 5 Business Days
Expedited Shipping NOT Available
Not Available Outside Contiguous US
Item Details
Confer Plastics Safe and Secure System SIG-X
This full featured above ground entry/exit system has an in-pool ladder, an out-pool staircase, and a gate that is self-latching and self-closing. The gate restricts access to unauthorized pool entry, and also has a self-closing mechanism that is sure to close the gate every time. The gate also includes a padlock which provides extra security and peace of mind.
The ladder takes up minimal space in the pool and allows for more swimming space. The ladder features an anti-entrapment barrier which prevents accidents and provides more peace of mind. The staircase is efficient and allows for safe entry and exiting. The system is safe and durable and has side rails for less mobile swimmers. The ladder and staircase can be separated if you chose to have a deck installed, if so then you will only use the staircase or the ladder. The ladder and staircase that are combined are confer plastic products; (STEP-1) staircase and (6100B) ladder. This completed ladder, staircase, and gate are safe, efficient, and secure and can all be easy installed and come together as one set.
Safe and Secure System Features:
Completed Entry/Exit System
Easy Assembly and Simple Installation
In-Pool Ladder takes up minimal pool space and has anti-entrapment barrier
Out-Pool Staircase is wide, stable, and helpful to less mobile swimmers
The gate has a self-closing mechanism which ensures a closed gate every time
Self-Latching Gate restricts access to unauthorized pool entry
The gate also has a padlock to provide extra security
Side Rails provide stability and security to step climbers
Efficient, Safe, Durable, and Economically Friendly
Ladder and staircase can be detached if you chose to install a deck
Satisfies most building inspector regulations in most states
Satisfies most insurance requirement in most states
Combined confer plastic products (STEP-1) and (6100B) with gate is included in this purchase.
Safe and Secure System Includes:
Entry/Exit Staircase (STEP-1)
Entry/Exit Ladder (6100B)
(1) Security Gate
Confer Plastics SIG-X