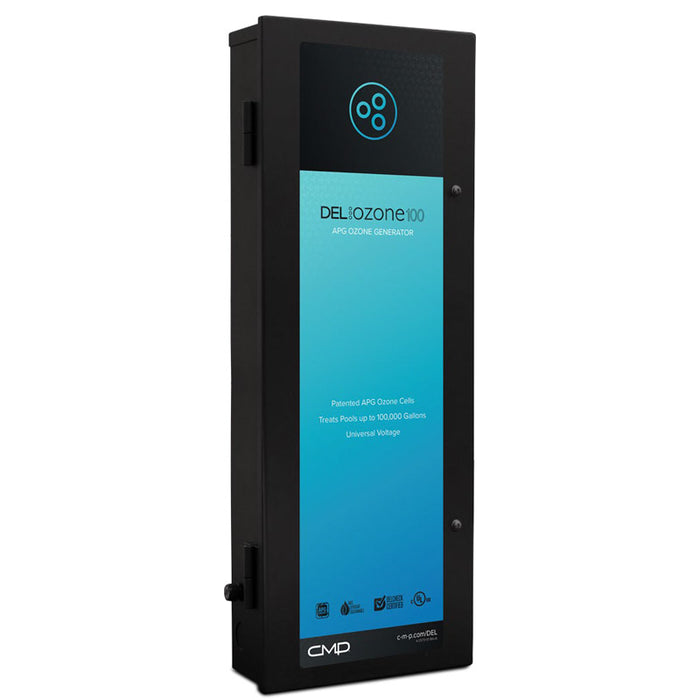 This item is IN STOCK
This item is TEMPORARILY OUT OF STOCK
Usually Ships Within 1 Business Day
Expedited Shipping Available
Item Details
Del Ozone 100 Ozonator
The all newOzone 100 ozonator uses Advanced Plasma Gap technology that kills 99.99% of microorganisms that are commonly found in swimming pools. The new eclipse can generate twice as much ozone as the previous model with a more reliable and consistent ozone output.
Ozone for pools is an extremely powerful antimicrobial oxidizing agent that is 200 times more powerful than chlorine and other harsh chemical sanitizers. Ozone is the most effective system for destroying bacteria, viruses, mold, algae and other unwanted particulates, yet it is 100% environmentally safe. The only byproduct of ozone is oxygen, unlike its chemical counterparts that produce a myriad of personal and environmental concerns. DEL Ozone systems are completely automatic. Ozone in your water is simply the best water quality you can have for your pool. Ozone provides clean, clear water and reduces chemicals and other additives.
The Ozone 100Generatorisconnected to your main circulation system so each time your main pump turns on, ozone will automatically be introduced into the water, keeping your pool water clean, clear and perfectly refreshing. TheOzone 100 is designed for pools up to 25,000 gallons if it will be your primary sanitizer or if it will be your supplemental sanitizer it will work for pools up to 100,000 gallons of pool water.


Features:
Kills 99.99% of microorganisms
Won't leave behind unwanted byproducts commonly found when using bromine and chlorine systems.
Unique design that is water back flow resistant
Reliable and consistent ozone output
More energy efficient than UV ozone systems
Indicator light to verify the unit is operating properly
Average ozone cell life of 5+ years
Auto voltage sensing for installation versatility
1 Year manufacturers warranty.
Specifications:
Pool Size: For pools up to 100,000 gallons of water
Operates with 120 Volt or 240 Volt Systems (auto detects when installed)
Power Output: 38 Watts
Ozone Output: 1.0 grams per hour average delivery
Mounting: Wall Mount
Plumbing: Standard Venturi Injector (Installation Kit Sold Separately - 9-0210-11)
Dimensions:
21.3" Height x 7.8" Width x 3.2" Depth
Note:
You will need the Installation Kit with Injector Manifold in order install theOzone 100 ozonator. If you already have an eclipse ozonator and you are replacing the unit you could install the new unit using your existing installation kit.
Del Ozone EC-40