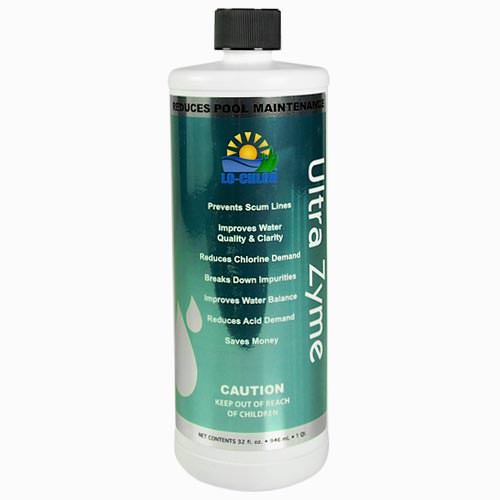 This item is IN STOCK
This item is TEMPORARILY OUT OF STOCK
Usually Ships Within 1 Business Day
Expedited Shipping Available
Item Details
Lo-Chlor Ultra Zyme
For hard-to-maintain pools, Lo-Chlor's Ultra Zyme is a pool owners best friend. Sometimes, despite a pool owners best efforts, pools will have hazy water, develop scum lines, and require extra chlorine and maintenance. This safe, non-toxic product helps remove this burden on pool owners. Used by professionals to treat challening pools, this product prevents scum lines and improves water quality and clarity. It also reduces chlorine demand, breaks down various impurities in the water, and reduces acid demand. This all works together to improve water balance, saving you valuable time and money.
Lo-Chlor Ultra Zyme Features:
Prevents scum lines
Improves water quality
Improves water clarity
Reduces chlorine demand
Breaks down various impurities
Reduces acid demand
Improves water balance
Saves time and money
Biodegradable and non-toxic
Compatible with chlorine generators
Size:
Directions for Use:
Add 1 oz per 2,000 gallons of pool water weekly.