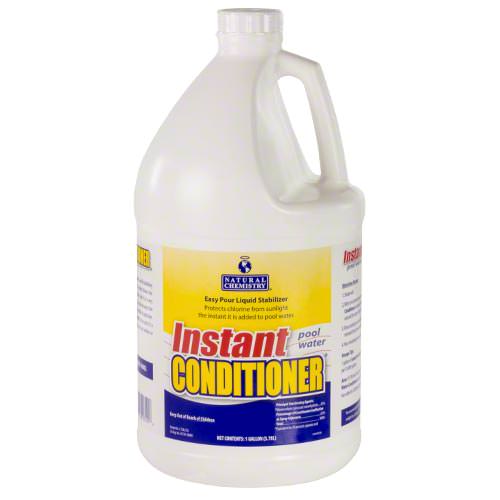 Natural Chemistry Instant Pool Water Conditioner 1 Gallon
This item is IN STOCK
This item is TEMPORARILY OUT OF STOCK
Usually Ships Within 1 Business Day
Expedited Shipping Available
Item Details
Natural Chemistry Instant Pool Water Conditioner
Instant Pool Water Conditioner is a salt based replacement for cyanuric acid that dissolves instantly, won't damage the pool surface or circulation system and is pH friendly. It works instantly to stabilize and protect the chlorine in your pool from loss caused by the suns UV rays.
Instant Pool Water Conditioner Features:
Replacement for cyanuric acid
Dissolves instantly
Prevents chlorine loss caused by suns UV rays
pH friendly
Won't damage pool surfaces or equipment
Gallon Bottle
Dosage Amount:
4 Ounces per 10,000 gallons of water to raise the stabilizer level (CYA) by 1 ppm.
Example: 1 gallon of this product will raise the conditioner/stabilizer level in a 10,000 gallon pool by 32 ppm.
It is recommended to maintain a cyanuric acid (CYA/conditioner/stabilizer) level between 30 ppm and 80 ppm in pools treated with chlorine or using salt chlorine generators. Add Instant Pool Water Conditioner when your cyanuric acid level falls below 30 ppm.
Natural Chemistry 07401