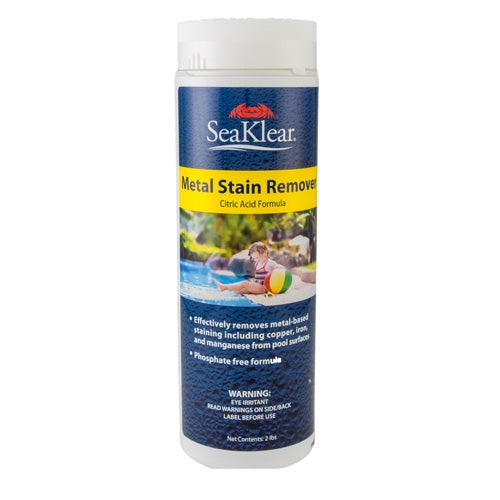 SeaKlear Natural Stain Remover
This item is IN STOCK
This item is TEMPORARILY OUT OF STOCK
Usually Ships Within 1 Business Day
Expedited Shipping NOT Available
Not Available Outside Contiguous US
Item Details
SeaKlear Natural Stain Remover
Natural Stain Remover is an all-natural formula that works effectively to remove stains caused by excess metals in pool water. This special formula is non-toxic and effective for the removal of iron, copper and manganese staining. These may appear as brown, grey, turquoise or black stains. It is also effective on tannin and organic stains.
Features:
Natural Stain Remover for pools
Nontoxic, all-natural, citric acid formula
Effectively removes copper, iron, tannin, organic and manganese stains from pool surfaces
Phosphate-free formula
2 Pound bottle
Dosage Amounts:
Sprinkle product into the pool over main spotted areas. Use 1 pound per 10,000 gallons of pool water
Note:
Natural Stain Remover should be used first if stains are already present. For metal stain control prevention use SeaKlear Metal Control or SeaKlear Stain Prevention and Remover weekly. For systems with salt generators use SeaKlear Metal Klear.