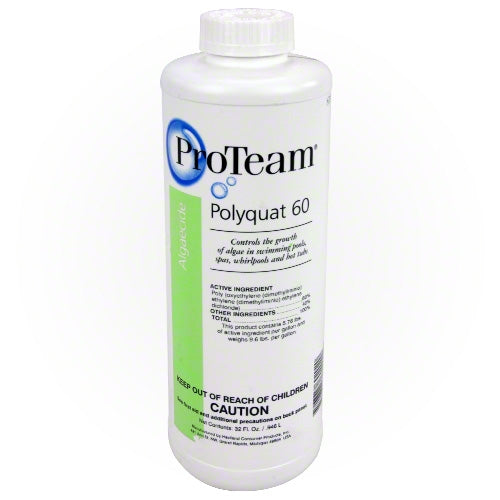 This item is IN STOCK
This item is TEMPORARILY OUT OF STOCK
Usually Ships Within 1 Business Day
Expedited Shipping Available
Item Details
ProTeam PolyQuat 60 - Quart Bottle
PolyQuat 60 is effective at killing most algae types and is also used to control the growth of all types of algae in swimming pools, spas, whirlpools, hot tubs and decorative fountains.
Using this product weekly prevents algae outbreaks from occurring. It is non-foaming and is the preferred choice for use in fountains, stand alone spas, or spas attached to swimming pools. This product is compatible with pools or spas that are sanitized with chlorine or bromine.
Continued use of this product may reduce the amount of chemicals normally required to maintain your pool, spa, hot tub, or fountain. This product can be used during the colder months when swimming pools are covered or no longer in use.
Features:
Kills and Prevents algae in swimming pools
Powerful formula that works fast
Non-foam, non-staining
32 Ounce Bottle

Dosage Requirements:
Initial treatment: (freshly filled, cleaned or first treatment)
Add 6 to 11 ounces per 10,000 Gallons
Weekly Preventative Maintenance:
Add 2 to 4 ounces per 10,000 gallons
Pools With Algae Growth:
Add 11 to 17 ounces per 10,000 gallons
ProTeam PolyQuat 60