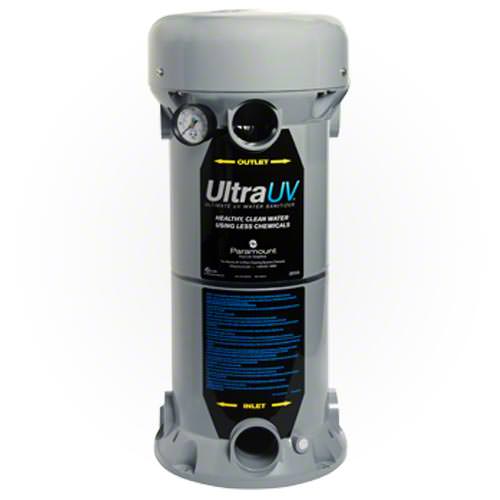 Paramount Ultra UV System - Dual Lamp - 230 Volt
This item is IN STOCK
This item is TEMPORARILY OUT OF STOCK
Usually Ships Within 1 Business Day
Expedited Shipping NOT Available
Not Available Outside Contiguous US
Item Details
Paramount Ultra UV System
Paramount's Ultra UV Water Sanitizer provides an additional layer of protection beyond the capability of chlorine or salt based chlorine generators. As water circulates through the Ultra UV chamber the UV light immediately inactivates 99.9% of micro-organisms and algae which are resistant to chlorine. This provides a cleaner, clearer swimming environment with zero harmful byproducts and dramatically reduces the amount of chlorine needed to
maintain an adequate level of residual sanitizer.
Ultra UV System Features:
The multi-directional and quick release piping connections make it easy to install in new and existing pools.
The 360 degree direct view lamp ON indicating ring lets you know the unit is on and if you need to replace a burned out UV-C lamp.
The Ultra UV is automatically activated by the flow of water through a pressure switch
Safe, Eco-Friendly and Family-Friendly
Inactivates 99.9% Bacteria, Viruses, Fungus, Algae and Micro-Organisms Instantaneously
Destroys Micro-Organisms That Chlorine Or Salt Chlorine Generators Can't
Dramatically Reduce Chemical Demand By Up To 50%
No Harmful By-Products
100% corrosion resistant housing
State of the art electronic ballast(s)
Does not diminish the pool's circulation
For indoor and outdoor use
Reduces Eye and Skin Irritation
Cleaner, Healthier Water
Minimal Maintenance
Ultra UV System Specifications:
Lamps: 2
Volts: 230
Flow Rate: Up to 80 gallons per minute
Dimensions: 13" Diameter X 32" Height
UV-C Lamp Life: 13,000 Operating Hours
Note:
If you have a multi-speed or variable speed pump capable of more than 80 gpm and 2-1/2" or larger piping all that happens is on that high speed which is seldom used for a long period of time the kill rate just goes down for that time.
Paramount 004422202600