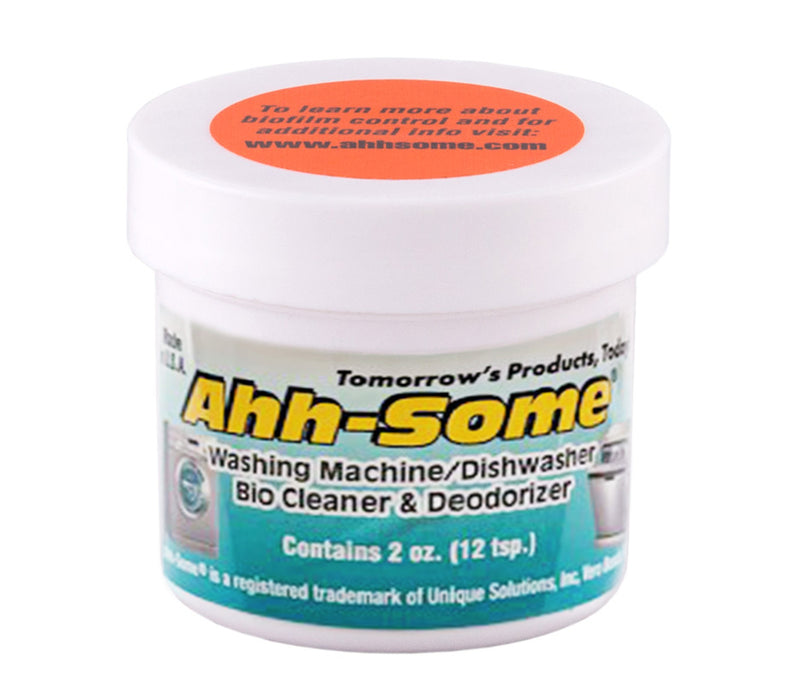 Ahh-Some Washing Machine/Dishwasher Bio Cleaner and Deodorizer
- 2 oz
This item is IN STOCK
This item is TEMPORARILY OUT OF STOCK
Usually Ships Within 1 Business Day
Expedited Shipping NOT Available
Not Available Outside Contiguous US
Item Details
Ahh-Some Washing Machine/Dishwasher Bio Cleaner
The Ahh-Some Washing Machine/Dishwasher Bio Cleaner is designed for use in Washing Machines and Dishwashers and removes surface grit, oils and other hard to remove gunk that can accumulate.
Features
Cleans and removes mold, mildew and other contaminants from

Washing Machines and Dishwashers

surfaces, plumbing and jets
Dislodges and removes plumbing buildup
Keep your washer and the entire area around it smelling fresh and clean
Improves the life of equipment that can be damaged by build-up
Even cleans out the gunk from brand new washers that accumulates during manufacturing
Washing Machine Instructions:
Mix one half teaspoon of gel with a cup of warm water and stir until it dissolves. Pour Ahh-Some into the detergent hopper. Run a short "Hot Water" or "Clean" cycle. Washing machine should be empty of clothing, towels or other washable items.
Dishwasher Instructions:
Remove all dishes and utensils from dishwasher. Add one half teaspoon of gel directly into the dishwasher bottom section. Run a short "Hot Cycle"