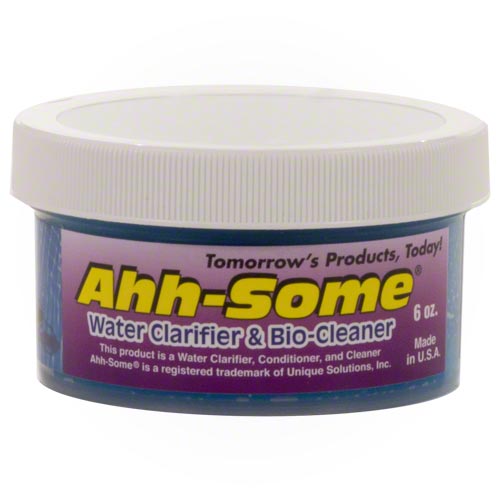 Ahh-Some Water Clarifier and Bio-Cleaner
This item is IN STOCK
This item is TEMPORARILY OUT OF STOCK
Usually Ships Within 1 Business Day
Expedited Shipping Available
Item Details
Ahh-Some Water Clarifier and Bio-Cleaner
Ahh-Some Water Clarifier and Bio-Cleaner will clean surfaces of dirt, scale, carbonates, algae stains, rust, oils, and any other particulates that builds on the pool liner, plaster, aggregate, or tile surface. The gel actually "lifts" off the build-up and complexes it with the water itself. The clarifier helps the filter grab all the junk that was removed by this product and put into solution. The result is crystal clear swimming pool water and less pool maintenance!
Features:
Pool Water Clarifier and Bi-Cleaner
Cleans pools surfaces and removes dirt, scale, algae stains, and oils
Clarifier removes contaminants and improves filter efficiency
Works with all surface types and almost all chemical systems
Made in the USA
6 Ounce Jar
Dosage Amounts:
Add 1 ounce of this product per 25,000 gallons of water. One jar treats up to 150,000 gallons of pool water. It is recommended to add every 28 to 30 days.