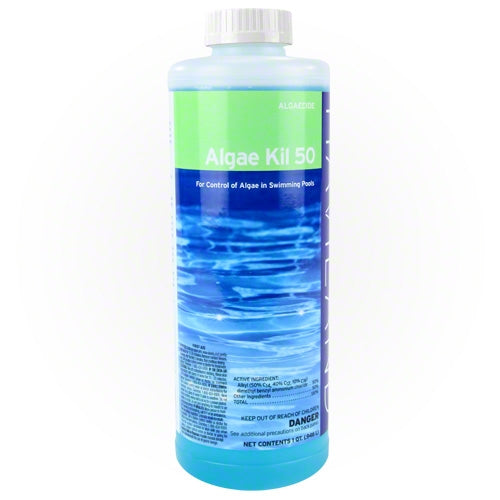 This item is IN STOCK
This item is TEMPORARILY OUT OF STOCK
Usually Ships Within 1 Business Day
Expedited Shipping Available
Item Details
Algae Kil 50

Algae Kil 50 is effective at preventing and killing algae in swimming pools. Use Algae Kil 50 if the presence of algae in outdoor swimming pools is objectionable because of the color, cloudiness, odor and increased chlorine demand of the water. The use of Algae Kil 50 is compatible with the usual water treatment chemicals. By controlling algae growth with Algae Kil 50, the chlorine demand of the pool may be significantly reduced.
Features:
Swimming Pool Algae Preventer and Killer
Compatible with most sanitizing systems
Fast acting formula
Size:
Directions for use:

1. In freshly filled pools or pools showing no visible algae growth, add 5 ounces of Algae Kil 50 per 10,000 gallons of water to prevent algae growth. Apply by adding directly to the pool.
2. If algae growth is observed, add one quart of Algae Kil 50 for each 25,000 gallons of water to kill and control these algae species most commonly found in swimming pools; cholera pyrendosa (green algae) and lyroba versicolor (blue-green algae).
Haviland Algae Kil 50