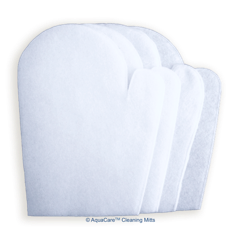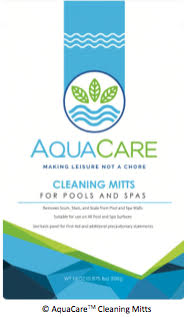 This item is IN STOCK
This item is TEMPORARILY OUT OF STOCK
Expedited Shipping NOT Available
Not Available Outside Contiguous US
Item Details
AquaCare Cleaning Mitts
AquaCare Cleaning Mitts are the Swiffer's for gross scum, annoying stain, and tough scale that appears at the waterline in your pool, spa, or hot tub. This all-inclusive product conveniently does not require additional cleaning chemicals and allows you to get into the water immediately after using the mitt. Unlike competitors, these disposable mitts are lined with a protective barrier so you aren't exposed to what you're cleaning with and picking up. Compared tomany household products, AquaCare Cleaning Mitts will not affect pool and spa water chemistry and can be used on plastic vinyl, fiberglass, ceramic, stainless steel, aluminum, painted surfaces, and more.
AquaCare Cleaning Mitts may be used to clean the entire spa surface when unit is drained in addition to when your spa is filled.
Features:
Unique Product- Both in its chemical formulation and concept compared to other pool and spa cleaning products.
Efficient - Effectively removes scum, stain, and scale from your pool or spa and allows you to get into your pool or spa immediately after cleaning.
Convenient - All-inclusive, no-hassle product that comes ready to use and no other chemicals are required.
Safe - These disposable mitts are pre-treated with a readily biodegradable chemical and are lined with a protective barrier.
Water Chemistry - With the use of this product, water pH balance will not be impacted in traditional or saltwater systems nor will foaming occur in spas.
Includes:
Directions for Use:
Remove mitt from package. Reseal zipper to preserve extra mitts.
Scrub scum, stain and scale at water level.
Dispose mitt in trash.
Rinse surface after cleaning
Wash hand after handling
Do not use on natural stone (marble, granite, etc.) or galvanized surfaces. Do not allow mitts to remain on porous surfaces such as masonry bricks for extended periods of time (30-60 minutes).