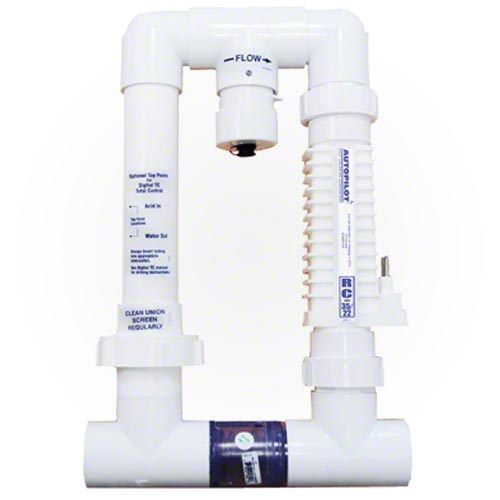 AutoPilot Pool Pilot Digital Manifold with PPC4 Cell
This item is IN STOCK
This item is TEMPORARILY OUT OF STOCK
Usually Ships Within 1 Business Day
Expedited Shipping NOT Available
Not Available Outside Contiguous US
Item Details
AutoPilot Pool Pilot Digital Manifold with PPC4 Cell
Description:
PPC4 Cell for Pool Pilot Digital Salt Chlorine Generators
For pools up to 52,000 gallons
Patented bypass manifold
Controlled flow rate for optimum chlorine production
Formally known as part number 94113
Manifold Features Include:
In-line Strainer - The in-line strainer protects the Tri-Sensor and the Cell from debris that may by-pass the filter and obstruct either component. The location of the strainer in the connecting union makes it easy to remove for periodic cleaning.
Tri-Sensor - The Tri-Sensor is a three way sensing device which measures flow, salt level, and water temperature.
Chlorine Production Cell - The cell produces 100% pure Sodium Hypochlorite in your pool plumbing returning it to your pool.
Check Valve - The check valve in the Manifold allows all water flowing through the plumbing at a rate greater than 20 gallons per minute to by-pass the production cell to maximize the production of chlorine.
Pool Pilot PPM4