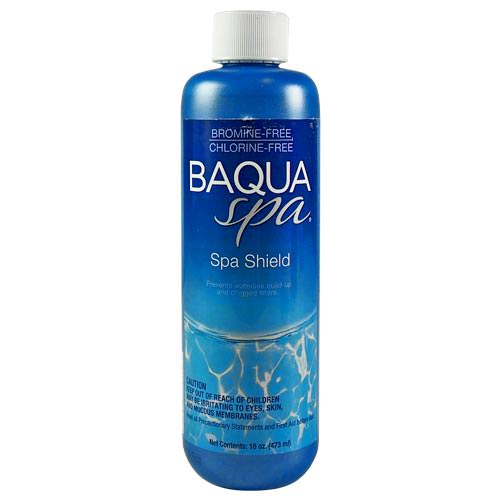 BAQUA Spa ScumShield - 16 oz
This item is IN STOCK
This item is TEMPORARILY OUT OF STOCK
Usually Ships Within 1 Business Day
Expedited Shipping Available
Item Details
BAQUA Spa ScumShield - 16 oz
Clear cloudy water and prevent unattractive scum lines with BAQUA Spa ScumShield. Left untreated, organics in your spa water will cause scum line build-up, unpleasant odors, and clog filters. BAQUA Spa ScumShield helps prevent these costly and time-consuming effects by using a natural enzyme to remove organics from your water. The unique, biodegradable formula also eliminates oils and lotions, leaving your water crystal clear and your wallet happy.
BAQUA Spa ScumShield Features:
16 oz bottle
Turns cloudy water crystal clear
Eliminates oils, lotions, and organics
Prevents scum build-up
Stops unpleasant odors
Helps prevent clogged filters
Saves you time and money
Bromine and Chlorine Free
Directions for Use:
Add 1 oz per 500 gallons of spa water.
BAQUA Spa 88839