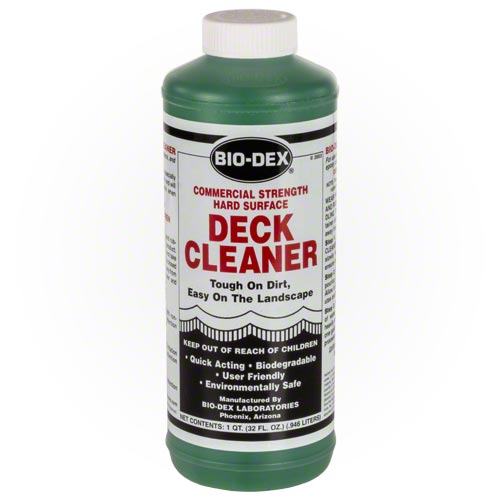 This item is IN STOCK
This item is TEMPORARILY OUT OF STOCK
Usually Ships Within 1 Business Day
Expedited Shipping Available
Item Details
Bio-Dex Deck Cleaner
Bio-Dex commercial strength hard surface Deck Cleaner is tough on dirt and easy on the landscape. It can be used on concrete, permadeck and epoxy coated decks. It is specially formulated for this application and will effectively remove most soils when used as directed.
Features:
Commercial strength deck cleaner
Quick acting
Effectively removes most soils
For concrete, permadeck and epoxy coated decks
biodegradable
Environmentally safe
User friendly
32 Ounce bottle
Directions:
Dilute 16 ounces of this product into one gallon of water.
Apply the solution by slowly pouring on the surface to be cleaned. Allow to dwell on the surface for 5 minutes and brush vigorously
Rinse thoroughly with plenty of water. Repeat if necessary.