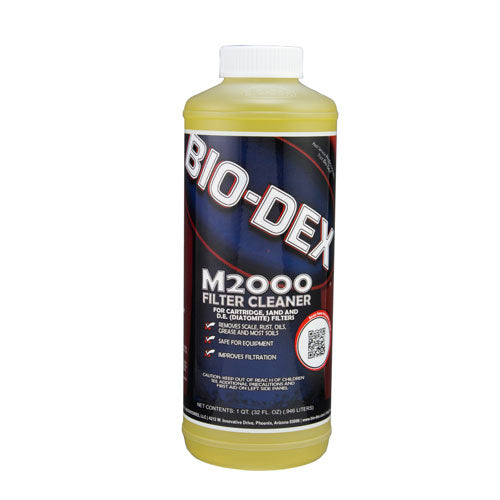 Bio-Dex M2000 Filter Cleaner
This item is IN STOCK
This item is TEMPORARILY OUT OF STOCK
Expedited Shipping NOT Available
Not Available Outside Contiguous US
Item Details
Bio-Dex M2000 Filter Cleaner
A clean filter improves water circulation and can dramatically improve the clarity of pool water. Filter Cleaner M2000 can remove a variety of contaminates from filters such as scale, grease, rust, oil and soil. You can apply the product directly to the filter or use it as a soaking agent. You'll find that the use of this product helps you keep your water clean and sparkling. It will also keep your pool filter and other equipment run efficiently over the long term.
Features:
Filter cleaner for Cartridge, Sand and D.E. Filters
Removes scale, rust, oils, grease and most soils
Safe for equipment
Improves filtration
use as a quick clean or soak
Professional strength
Size:
Directions for use:
Backwash the filter.
Shut off the pump.
Put the multiport valve in closed position until ready to backwash.
Remove filter top.
Drain the filter.
Pour pre-mixed solution into the filter and add sufficient amount of water to cover the media.
Replace the filter top.
Soak 4-12 hours (longer for better cleaning). For pools with high mineral content, scale or oil buildup, soak overnight and backwash the next day. After soaking the recommended amount of time, move the valve to backwash position, and backwash until the water coming from the backwash line is clear
Start pump, fill the filter with clean water and resume normal filtration.
Quick Cleaning of D.E. and Sand Filters
Remove the suction type cleaner hose from the skimmer temporarily.
While filter system is backwashing to waste, pour 10 ounces of this product through the skimmer. 
Allow filter to continue backwashing until water is clear and clean.
Return filters to normal filtration cycle.
Complete Cleaning of Cartridge and DE Grids
Remove cartridges, and rinse off with clear water. 
Place cartridges into solution of one qt of M2000 Filter Cleaner per 10 gallons of clean water. Use plastic type container.
Allow cartridges to soak in the solution for 4 hours (longer if extremely dirty).
When cleaning is complete, remove cartridges from cleaning solution, rinse with clean water and return to filter for normal filtration operation.