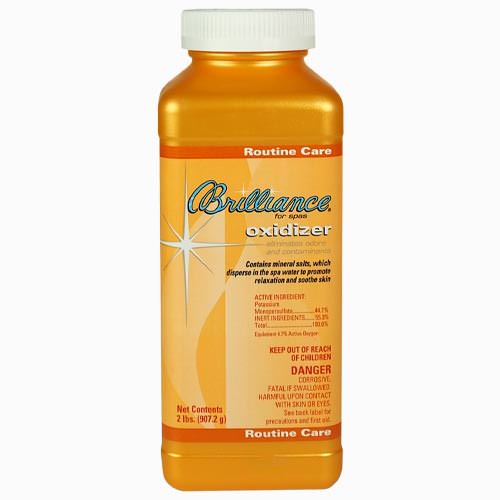 This item is IN STOCK
This item is TEMPORARILY OUT OF STOCK
Usually Ships Within 1 Business Day
Expedited Shipping NOT Available
Not Available Outside Contiguous US
Item Details
Brilliance Oxidizer
Brilliance Oxidizer is a shock treatment that will remove organic contaminants resulting in fresh, odor free, clear water. It also contains mineral salts, which disperse in the spa water to promote relaxation and soothe skin.
Brilliance Oxidizer Features:
Oxidizes spa water and removes organic contaminants
Eliminates odors and contaminants
Contains mineral salts that relax and soothe skin
Quick dissolving
2 Pounds
Ingredients:
Potassium Monopersulfate 44.7%
Inert Ingredients 55.3%
Equivalent 4.7% Active Oxygen
Dosage Amounts:
For spas using Brilliance Sanitizer (a dibromo dimethylhydtanoin sanitizer), add 1/2 ounce per 250 gallons of spa water. For all other sanitizer types including Brilliance Bromo Tabs brominating tablets and Brilliance Spa Chlorinating Granules, add 2 ounces per 250 gallons of water.