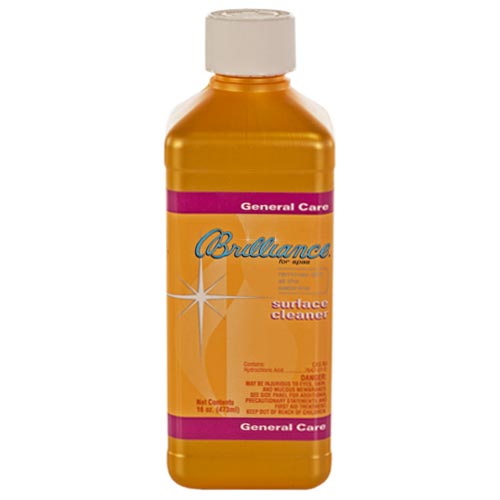 Brilliance Surface Cleaner
This item is IN STOCK
This item is TEMPORARILY OUT OF STOCK
Usually Ships Within 1 Business Day
Expedited Shipping NOT Available
Not Available Outside Contiguous US
Item Details
Brilliance Surface Cleaner
Brilliance Surface Cleaner removes metal stains, oils, scale and dirt that may be present above and below a spa's waterline. It's safe to use on all nonporous spa surfaces as well as painted and unpainted plaster, vinyl, fiberglass, ceramic, stainless steel and aluminum.
Features:
Effective spa surface cleaner
Removes all types of stains, oils, scale and dirt
Can be used on a wide variety of spa surfaces
Can be used underwater
16 Ounces
Directions for use

Waterline Cleaning:
Apply a on-inch ribbon of this product to a wet, nonabrasive scrub pad.
Apply product to a 2-3 foot section of area to be cleaned. Using gentle pressure scrub area with treated pad. Thoroughly rinse treated areas.
Note:
For stubborn stains and tile grout, let product stand on effected area for a couple of minutes before scrubbing. Use a soft-bristled brush for tile grout. For light waterline cleaning, dilute the surface cleaner in warm water. Use three ounces of this product to one gallon of water.
Underwater cleaning:
Apply this product directly to a non-abrasive scrub pad.
Scrub affected area(s)