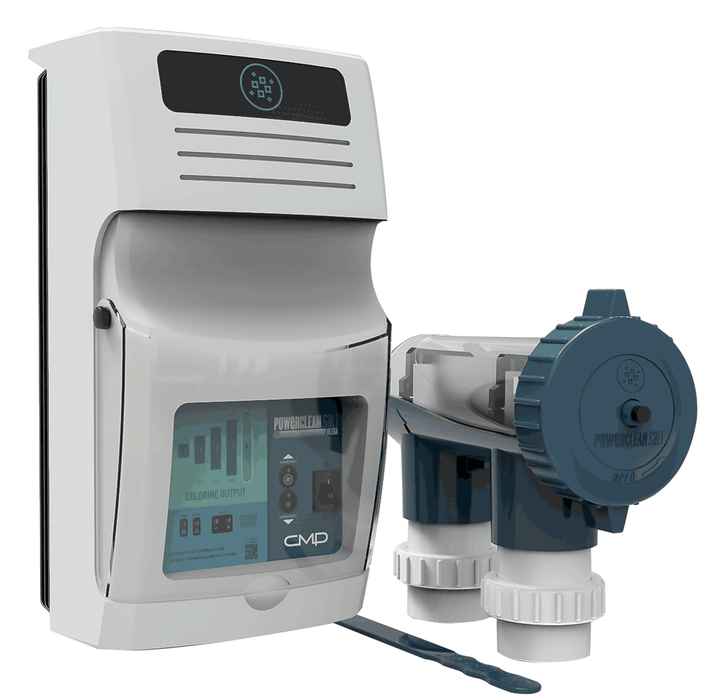 CMP PowerClean Salt Ultra 760 Chlorine Generator - 60,000 Gallon
This item is IN STOCK
This item is TEMPORARILY OUT OF STOCK
Special Order Item - Usually Ships Within 2 to 4 Weeks
Expedited Shipping NOT Available
Not Available Outside Contiguous US
Item Details
CMP PowerClean Salt Ultra 760
This is the future of salt chlorine generation. Powerclean Salt systems are designed to be durable, affordable and serviceable.
Salt systems have been around for years, but nothing like this. It's time for a chlorine generator that pool professionals and homeowners will all love to use.
PowerClean Salt Ultra chlorine generators feature an upgraded salt cell design with clear housing, self-aligning unions for easy installation, service and Winterization.
The metal plates in a Powerclean Salt cell are each individually powered. Competing products have plates crammed close together so that they can "share" electricity.
The improved design lets us spread the plates further apart. This makes them easy to clean by hand. The wider spacing also helps prevent mineral buildup that bridges between plates-mineral bridging can lead to permanent damage.
Features:
Swimming Pool Salt Chlorine Generator
Produce pure chlorine without tablets or shock
Salt chlorination leaves the water feeling smooth and soft
Upgraded salt cell design
Clear cell housing makes it easy to inspect the cell plates and see when it's time to clean
Cell plates are completely removable for easy cleaning with no dangerous chemicals
Built-in sensor inside the cell constantly checks for faults due to flow, temperatureor calcium build-up
Grab handles on cell cap for easier removal
Heavy duty custom cleaning tool included
Self-aligning unions ease installation, service and winterization
Four output levels plus Chlorine Boost
Auto shut-off for low salt, low temp or low flow
Certified to UL-1081 and NSF/ANSI-50
Specifications:
Pool Size: For Pools up to 60,000 Gallons | 43,000 Gallons for High Demand Pools
Max Chlorine Output: 1.88 Lbs Per Day
Voltage: 120/220V (Ships 220V Ready)
Amps: 2.2A@220V / 4.4A@120V
Cell Cord Length: 10 Foot
Plumbing: 2" Socket (Can be reduced to 1-1/2" with reducer bushings)
Warranty: 3 Year, 100% Warranty
Power Center Dimensions:
8-7/8" Wide x 16-11/16" Height x 7-5/16" Depth
Salt Cell Dimensions:
12-1/2" Wide x 9-5/16" Height
Note:
High demand pools may require more output to maintain a proper chlorine residual. High demand may include hot or humid climates, high bather loads, or environmental factors.
CMP 52000-260-000