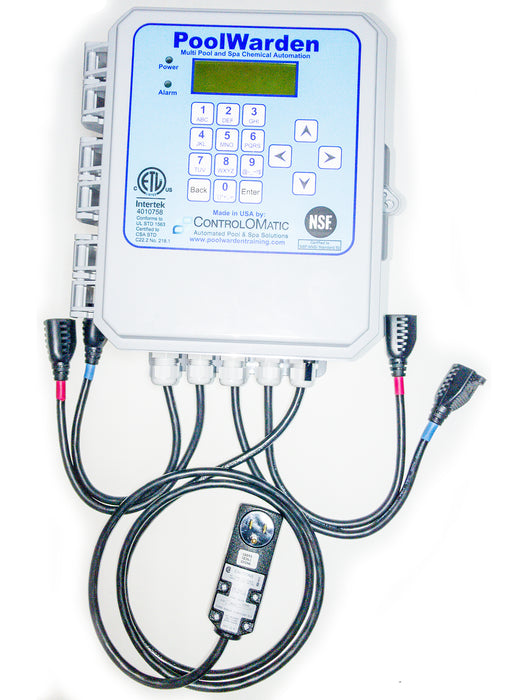 ControlOMatic PoolWarden Controller - PW-D
This item is IN STOCK
This item is TEMPORARILY OUT OF STOCK
Usually Ships Within 1 to 2 Business Days
Expedited Shipping NOT Available
Not Available Outside Contiguous US
Item Details
ControlOMatic PoolWarden Controller

The PoolWarden is the most advanced pool chemical controller for chemical automation, and is easy to read and operate. The 80 character display with back light and 16-button keypad will allow the user to fully operate and move through functions at a quick and easy pace.

The double pool version includes 8 output relays providing control of pH, sanitizer, chlorine, heaters, pumps and alarm outputs in two separate bodies of water; 2 pools, or 2 spas, or 1 pool and 1 spa. Being able to control both bodies of water with one device controller that will automatically balance each pools' chemical levels is more than convenient!

For setup with the PoolWarden double pool controller, there are setup wizards that are included for standard types of control including, acid, base, cal-hypo, erosion feeders, salt systems, heaters and more. These wizards will completely guide you through the process of setting up all of the controls to manage your pools environment balance. So once you get this controller because you already have existing sensors and flow cells then all you will need to do is combine the devices and follow the relay wizards which should setup in no time and you will be all ready to go!

This automation system has several exclusive features. One is the pH lockout system with sanitizer backup. pH lockout allows for disabling the ORP sanitizer feed when pH levels reach a high enough value.
The PoolWarden allows the ORP relay to go into an alternate feed cycle if this occurs rather than simply disabling the sanitizer feed.

Langlier Saturation Control Index
is another exclusive feature that allows for an adjustable pH setpoint based on the Langlier index of the water to help keep the index in the balanced area which will help to protect the pool and equipment. The PwFree DPD free chlorine colorimetric sensor is included. As well as, a
new screen that will list all alarm conditions that will cause an alarm if the condition lasts long enough.

The ability to connect to a local WIFI internet connection is of great significance because now you can monitor your pools levels on any computer using your security passwords. You can manage and adjust chemical levels on the computer, or you can review data collection over the past few months of your pools environment. Also you can completely setup the balanced pH levels on your computer and print data or information that you wish to keep on hand.

The PoolWarden is the most reliable way to replace a dead controller that has functioning flow cell and sensors, in fact, you will soon find that you have made quite the up-grade! You will be able to save money with your new PoolWarden because the price is cost effective and the system is accurate with chemical and sanitizer dispensing so you know that you are not over using chemicals. PoolWarden is easy to operate and gets the job done correctly, now you can swim in a safe pool environment.

Controller Features:

Multi Pool: Ability to control two bodies of water with single controller.
Sanitizer Control: Liquid, erosion feeder, suction side cal-hypo, and salt systems.
pH Control: Acid and base.
Aux relay Control: Heater, feed daily and alarm out.
WIFI Option: Connection to the local wireless network.
Proportional Control: Supported on temperature, pH and ORP for reduced setpoint overshoot.
Display backlight: Press any button and the backlight will turn on making the display easy to read at night.
Flow measurement: Supports digital flow meters and flow switches.
Name: Give the PoolWarden a name to make it easy to tell which one is which.
Manual mode: Manually turn any relay on for an adjustable amount of time.
Disable relays: Disable all relays for up to one hour, can be handy when servicing the pool.
Total relay on time: Easy to see how long a relay has been on for the month.
Security: Now includes 10 passwords and 4 levels.
Relay wizards: Simply select the type of control for each relay using the wizards.
Service PIN codes: Allows for tracking when the PoolWarden was serviced and by whom.
Heater Energy Management: Adds a night time temperature setpoint that can be setup with different time for each day of the week. Lowering the temperature when the pool and spa are closed will help to lower heating costs.
Variable Speed Pumps: Allows for setting a time for each day of the week that the pump runs full speed, and when to run at low speed.
Monthly Chemical Usage: The data server tracks the amount of time each month that the relays are on. Dollar values can be assigned to display money spent on chemicals and energy used/saved on heater control.
Backup Sanitizer: Ability to assign sanitizer feed to the aux relays to provide a second sanitizer as a backup.
Specifications:
Data Recording: Stores up to 8200 lines of data. At a 1 minute interval that is 5.5 days, at 15 minutes almost 3 months!
ORP: Oxidation reduction potential, 0 to 999 mV, calibration supported.
pH: 4.2 to 9.8, calibration supported.
Temperature: 32 to 120 Fahrenheit, calibration supported.
Dimensions:
Height: 8 Inches
Width: 8 Inches
Depth: 6 Inches
Hinged List and Locking Latch.
ControlOMatic PW-D