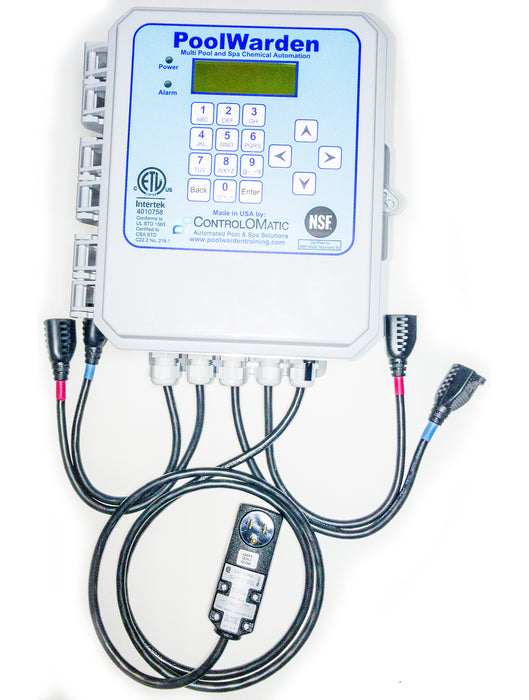 ControlOMatic PoolWarden Controller - PW-S
This item is IN STOCK
This item is TEMPORARILY OUT OF STOCK
Usually Ships Within 1 to 2 Business Days
Expedited Shipping NOT Available
Not Available Outside Contiguous US
Item Details
ControlOMatic PoolWarden Controller

The PoolWarden is the most advanced pool chemical controller for chemical automation, and is easy to read and operate. The 80 character display with back light and 16-button keypad will allow the user to fully operate and move through functions at a quick and easy pace.
This single pool version includes 2 dry contact output relays and 2 110 VAC relays providing control for pH, sanitizer, chlorine, heaters, pumps and alarm outputs.


Setup wizards are included for standard types of control including acid, base, cal-hypo, erosion feeders, salt systems, heaters and more. Most people want their pools taken care of by the hands of the PoolWarden because it has easy-to-read display with accuracy and will provide the user with sufficient information about their pool or spa. The user can easily access and manage their pools' chlorine and chemical levels with the quick touch of a few buttons.

The relay wizards will guide you through the setup for your pool specifications. The wizards that are available are the ORP relay wizards, the pH relay wizards and Auxiliary relay wizards. If you need to control something that is not in the wizards then call ControlOMatic and they will most likely be able to add the function or a wizard for you. For checking temperature you can get the NTC 10K Thermistor that is specifically designed for the PoolWarden. Otherwise your existing sensors and flow cell will be compatible with this controller.

If you have a system that has functioning sensors and flow cell and just need to replace the controller then the PoolWarden may be your only option, at least it's the best option!

Controller Features:
Pool chemical automation controller.
Programmable pH, ORP and temperature set points.
Precise chemical control with minimal overshoot. The proportional feed percentage is also adjustable.
Each relay has a wizard for configuration making setup a snap.
80 Character display with back light.
16 Button keypad for easy value entry.
Temperature Sensor.
Includes real time clock with both the time and date.
Designed to work with salt chlorine generators.
Control options include programmable feed on and off times, proportional control and over-feed limits.
Includes 2 Dry contact relays and 2 110 VAC relays.
Programmable manual feed mode.
All relays disable for when the pool is being serviced.
Service Logging with the optional WIFI communication, track when and who serviced the pool.
Data recording built in, almost 3 months at 15 minute intervals.
Heater energy management, save money on heating costs!
Specifications:
ORP: 0 to 999 mV
Temperature: 0 to 50 °C. 32 to 120 °F.
pH: 4.2 to 9.8
Input voltage: 110 VAC, 10A fuse.
Dimensions:
Height: 8 Inches
Width: 8 Inches
Depth: 6 Inches
Hinged List and Locking Latch.
ControlOMatic PW-S