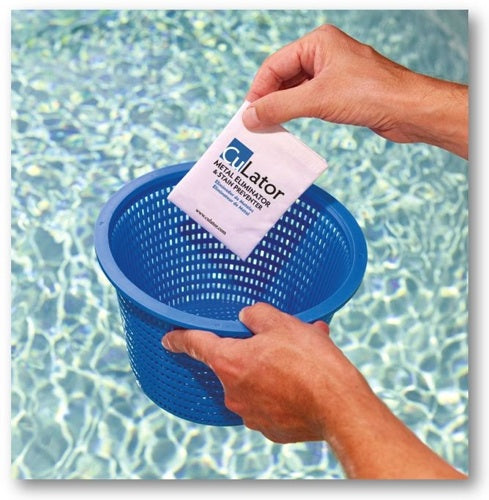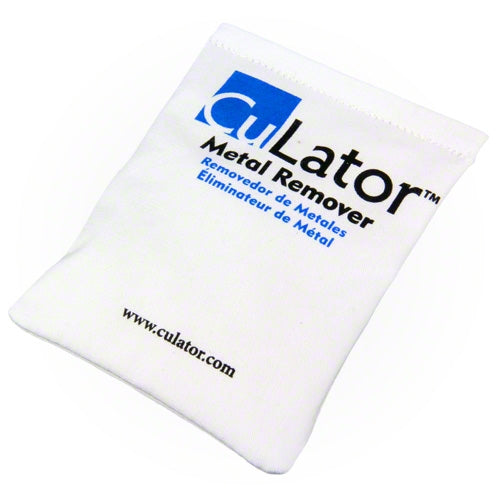 CuLator Metal Eliminator and Stain Preventer
This item is IN STOCK
This item is TEMPORARILY OUT OF STOCK
Usually Ships Within 1 Business Day
Expedited Shipping Available
Item Details
CuLator Metal Eliminator and Stain Preventer
CuLator is the only way to rapidly and permanently remove copper, iron, manganese, nickel, cobalt, lead and silver from fresh, hard and salt water pools, spas and fountains. CuLator is nontoxic, and does not remove the beneficial form of metal found in mineral-based water purification products, such as those containing silver and copper. Rather, CuLator rapidly removes the bad form of the metal produced when these products lose their effectiveness.

The CuLator Metal Eliminator is the only product that literally eliminates metals from water. As water passes through the CuLator PowerPak, stain causing metals are permanently trapped inside. Each CuLator PowerPak will remove up to 1.0 ppm of total dissolved metals per 20,000 gallons of pool water. Each CuLator PowerPak is effective for 30 days and after use, just throw away the PowerPak and the metals are gone for good! Regular use of CuLator can keep your pool or spa metal-free year-round.
Features:
Metal Eliminator and Stain Preventer
Permanently Removes Copper, Iron, Manganese, Nick, Cobalt, Lead and Silver from Pool Water
Removes up to 1.0 ppm of total dissolved metals per 20,000 gallons of water
Effective for 30 days

Directions for Use:
Remove CuLator PowerPak cloth bag from the sealed plastic pouch.
Place CuLator PowerPak in skimmer basket. Submerge completely and squeeze out air. (Note: PowerPak may expand and/or float in skimmer basket.)
Run filter or circulation pump. Metals are eliminated from the water as it passes over the PowerPak. For more rapid metal elimination, run pump more frequently and or use additional PowerPaks. Each PowerPak lowers the total metal content by up to 1.0 ppm per 20,000 gallons of pool water.
Discard used PowerPak after 30 days.
To keep pool water metal free, retreat with a fresh CuLator PowerPak Monthly.
The CuLator packaging is made of nontoxic biodegradable materials and is non toxic. CuLator can be used around family and pets. It is non-poisonous, non-corrosive, and is completely biodegradable after disposal.