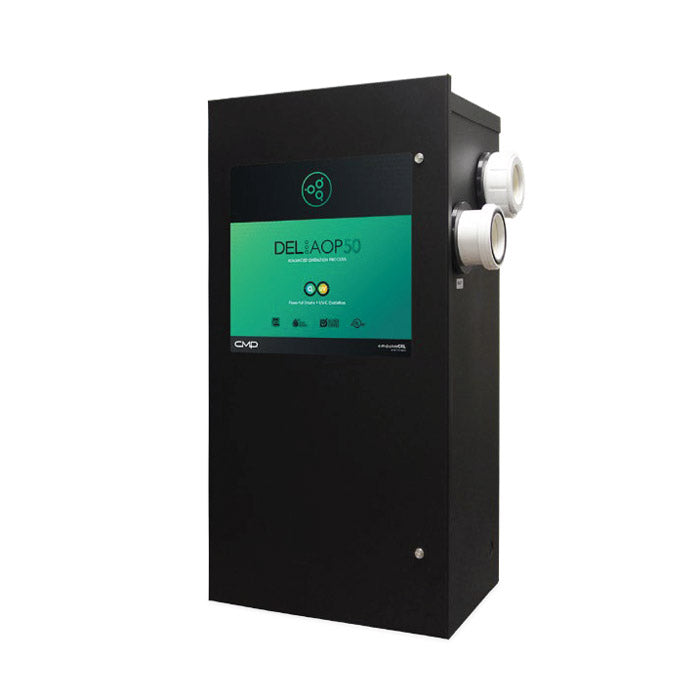 Del Ozone AOP 50 - Ozone + UV
This item is IN STOCK
This item is TEMPORARILY OUT OF STOCK
Usually Ships Within 1 Business Day
Expedited Shipping Available
Item Details
Del Ozone AOP 50
DEL Ozone has been the leading technology innovator for residential pool sanitation, and the new AOP 50 continues the tradition. The AOP 50 is designed for swimming pools with up to 50,000 gallons of water. The AOP 50 pool sanitizer is built primarily from two components - the ozone generator and the UV lamp chamber - which are pre-plumbed and pre-wired. The system installs with simple inlet and outlet unions for water flow and one electrical connection.
The AOP 50 is a small Advanced Oxidation Process (AOP) system that combines the oxidation power of ozone with the germicidal capability of low-pressure UV light to take pool sanitation to a new level. The key to this system is that ozone and UV interact to generate hydroxyl free radicals, the most powerful disinfectant for water treatment that is safe for humans.
The AOP 50 provides the benefits of both technologies plus the Advanced Oxidation Process for optimal water clarity and increased removal of contaminants in pool water. This innovative advanced sanitation system creates a synergy that injects higher disinfection potential into the pool water than the ozone and UV components can do independently.
The definition of AOP is that a chemical reaction is initiated that generates hydroxyl free radicals (OH). The OH is a highly unstable and unselective oxidizer: it instantly interacts with organic and inorganic substances to break them down. This instantaneous disinfection process removes all contaminants from pool water with no harmful byproducts. It's the hydroxyl free radicals that make this small AOP system the most potent pool sanitation agent or process on the market.
AOP systems are typically much larger and are used for industrial or municipal water treatment. But with DEL Ozone's new Advanced Plasma Gap ozone cells and top quality germicidal UV lamps from Trident Ultraviolet, DEL engineers were able to create a small, dependable unit that is designed to work with existing standard residential pool plumbing and mechanicals.
AOP 50 Features:
Corona Discharge Ozonator and Germicidal UV
Safe, Sustainable, Low-Cost Pool Sanitation
Del Ozone Exclusive Plasma Gap Ozone Technology
Integrated Trident Germicidal Ultraviolet Technology
2" Inlet and Outlet Plumbing with Union Connections
Maximum50 Gallons Per Minute Flow Rate
Floor or Wall Mount
Designed for indoor or outdoor installations
240 Volt Operations
UL, cUL Listing Certifications
Germicidal UV Lamp Life of 13,000 Hours
Expectant Ozone Cell Life of 5 years
2 Year Manufacturers Warranty
Dimensions:
12" Wide X 26" Height X 17" Depth
Note:
Formerly Known as Solar Eclipse
Del Ozone SEC-110-26 (Formerly Known As SEC-100-26)