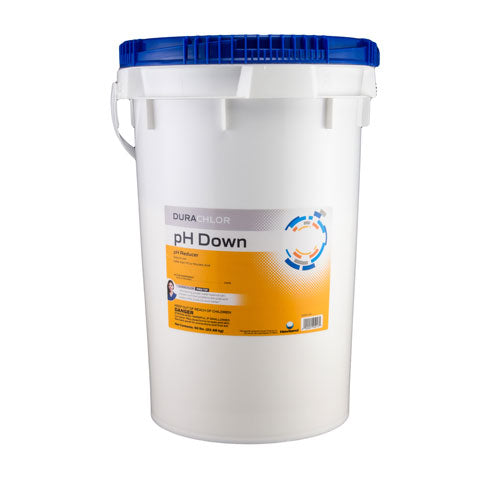 DuraChlor pH Down - 50 lbs
This item is IN STOCK
This item is TEMPORARILY OUT OF STOCK
Usually Ships Within 1 Business Day
Expedited Shipping Available
Item Details
DuraChlor pH Down

pH Down reduces the pH of water in swimming pools. pH levels should be maintained between 7.2 and 7.6. When the pH levels exceed 7.6, the water can become cloudy and conditions are favorable for scale to form. Additionally, high pH may cause sanitizers to be less effective in the water.
Features:
Lowers pH in swimming pool water
Easy to use formula
Safer than HCI or Muriatic Acid
Granular formula
Size:
Active Ingredients:
Directions for use:

The ideal pH of swimming pool water is between 7.2 and 7.6. If a test kit reading indicates that the pH is greater than 7.6, sprinkle 1/2 a cup of DuraChlor pH Reducer directly into the pool for every 10,000 gallons of water. Wait two hours and test again. If the pH reading is still greater than 7.6, repeat application.