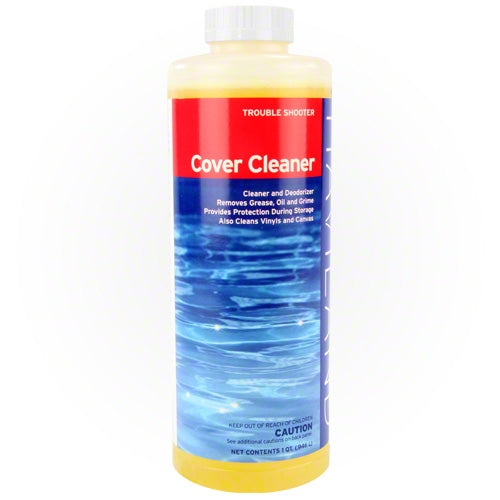 DuraChlor Pool Cover Cleaner - 32 oz.
This item is IN STOCK
This item is TEMPORARILY OUT OF STOCK
Usually Ships Within 1 Business Day
Expedited Shipping Available
Item Details
DuraChlor Pool Cover Cleaner
Cover Cleaner removes dirt, grease, oil, grime, deodorizes and prevents unpleasant odors. Cover Cleaner is a concentrated formula with a fresh lemon scent and is suitable for swimming pool solar blankets, automatic safety covers and winter covers.
Pool Cover Cleaner protects cover from deterioration and sticking together during storage and prolongs the useful life of your cover. It may also be used to clean plastic or canvas outdoor furniture, boat covers, umbrellas and other vinyl and canvas pool side accessories.
Features:
Pool Cover Cleaner and Deodorizer
Ideal for automatic pool covers, solar and safety covers
Removes dirt, grease, oil and grime
Extends cover life
Fresh lemon scent
Size:
Directions:
Remove major debris and water from pool cover while cover is still on the pool. 
Remove, open or unfold your cover
Dilute 12 ounces of Cover Cleaner with 2 1/2 gallons of water and spread over entire cover
Brush cover clean with a nylon brush;
Rinse cover and clean other side (if applicable)
Lightly sprinkle diluted Cover Cleaner on winter or solar covers as they are being folded for storage (if applicable)
Rinse away any spills of the concentrated cover cleaner from driveways, patios and lawns with garden hose