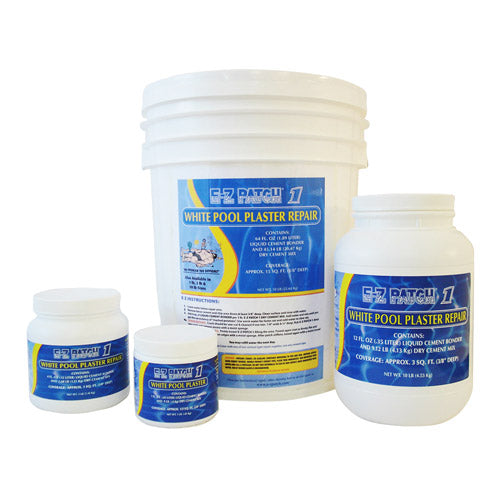 E-Z Patch Pool Plaster Repair
- 3 Pounds
This item is IN STOCK
This item is TEMPORARILY OUT OF STOCK
Expedited Shipping NOT Available
Not Available Outside Contiguous US
Item Details
E-Z Patch Pool Plaster Repair
E-Z Patch 1 White Plaster Repair is a plaster mixture specifically designed for above water (with water lowered) repairs. After doing the repair, water may be refilled the next day. Liquid Acrylic Bonder is included inside of kit.
Color may be tinted using any cement type dye. Product contains special modified materials with pozzolans (siliceous volcanic ash) and polymers.
Features:
Plaster repair kit
For above water repairs
Includes bonder
Can be tinted using any cement type dye
Color:
Coverage:
1Pound (depth 3/8″ = 1/3 sq ft)
Instructions:
1. Lower water below repair area.
2. Remove loose cement and chip area down at least 3/8" deep. Make sure the edges are chipped straight down (not beveled or slanted). Clean the surface and rinse with water.
3. Add Liquid Cement Bonder to E-Z Patch 1 Dry Cement Mix (use fractions = ¼ of the dry mix to ¼ of the liquid cement bonder, etc.). Now add water and mix until you get the consistency of "mashed potatoes. Use warm water for faster set and cold water to slow set.
4a. Crack Repair: Crack should be saw-cut & cleaned if not min. 1/8" wide & ¼"deep. Rub E-Z PATCH 1 deep into crack and remove excess with a moist sponge.
4b. Chipsor Larger Areas: Firmly trowel E-Z Patch 1 filling the area. Trowel again (not as firmly) flat and smooth. Remove excess from edges with a moist sponge. After patch stiffens, trowel again with a moist trowel flat and smooth for finish. You may refill water the next day.
To make a Custom Color with any of our cement type repair supplies, use any cement dye.