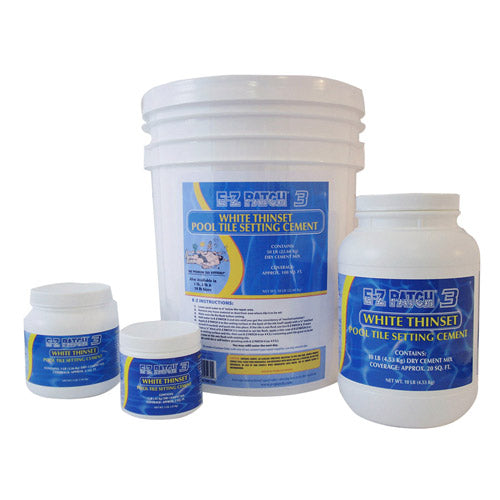 E-Z Patch 3 Thinset Pool Tile Setting Cement
- 3 Pounds
This item is IN STOCK
This item is TEMPORARILY OUT OF STOCK
Expedited Shipping NOT Available
Not Available Outside Contiguous US
Item Details
E-Z Patch 3 Thinset Pool Tile Setting Cement
E-Z Patch 3 Thinset Pool Tile Setting Cement contains a special formula which bonds better and allows all tiles to be reset flush with the existing tiles including cap tile or dry clay tile. This product contains special modified materials with pozzolans (siliceous volcanic ash) and polymers.

Repair work must be done above water (with the water level lowered). Liquid acrylic bonder is not needed on this kit. All of our cement repair kits may be color adjusted using any cement dye. After doing the repairs, the pool may be refilled the next day.
Features:
Pool Tile Setting Cement
Reset tiles flush with existing tiles
For above water repairs
Color:
Coverage:
1 Pound will cover about 2 Square Feet
Instructions:
1. Lower water below repair area.
2. Remove any loose material or dust from area where tile is to be set.
3. Make sure tile fits flush before setting.
4. Add water to E-Z Patch 3 Dry Cement Mix and mix until you get the consistency of mashed potatoes.
5. Apply E-Z Patch 3 to the setting surface or the back of the tile itself (apply with a 1/4" notched trowel
if needed) and firmly push tile into place. If the tile is not flush use less E-Z Patch 3. If more than 1/4"
thickness is needed to set tile flush, apply a thin coat of E-Z Patch 3 on the setting surface and tile,
then use E-Z Patch 4 tile grout to build-up area so tile sets flush with existing tile.
6. Wait until tile is stiff before grouting with E-Z Patch 4.
7. You may refill water the next day.