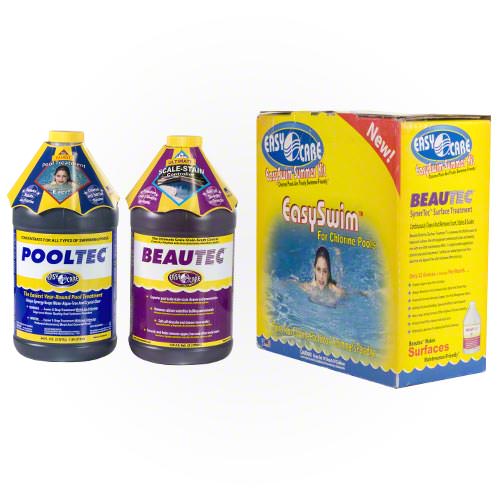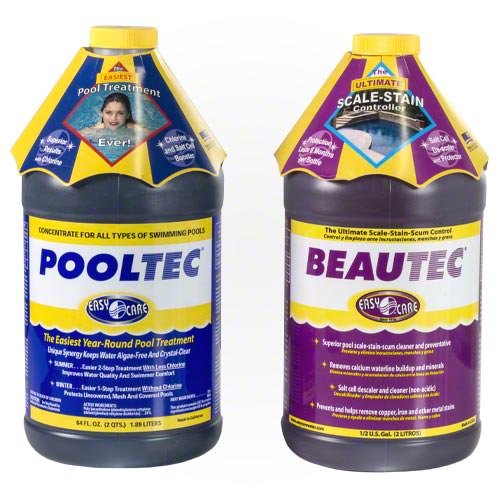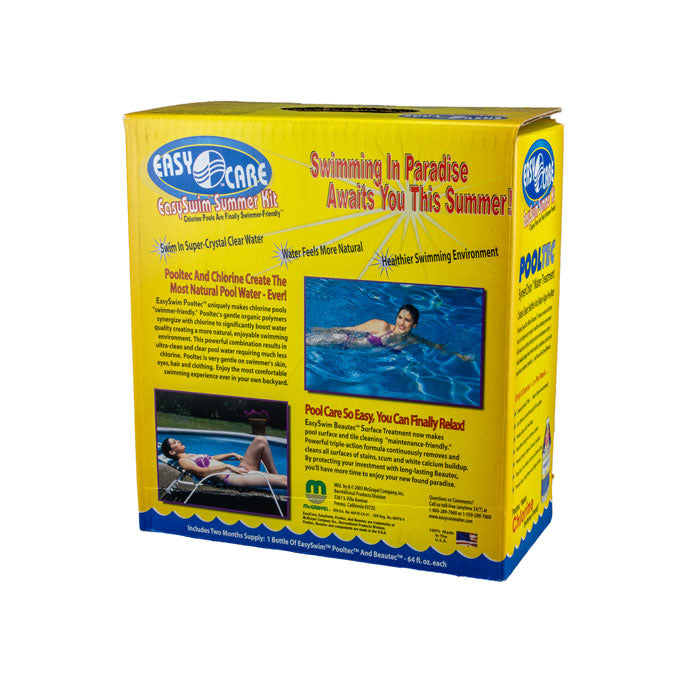 EasyCare Easy Swim Summer Kit
This item is IN STOCK
This item is TEMPORARILY OUT OF STOCK
Usually Ships Within 1 Business Day
Expedited Shipping NOT Available
Not Available Outside Contiguous US
Item Details
EasyCare Easy Swim Summer Kit
The Easy Swim Summer kit for chlorine pools contains Beautec which is the ultimate pool surface protection for superior scale, stain, and scum prevention and Pooltec that kills and prevents all types of algae growth, ultra clarifies water.
Pooltec is the ultimate algaecide to prevent or kill algae. It also helps to clarify water and is a super chlorine booster for salt generator pools or pools using other types of chlorine. Overall, Pooltec provides for easier pool maintenance and reduces chlorine use from 30% to 65%.
Beautec protects pool surfaces from scale, stain and scum buildup and from staining caused by mineral scales. Beautec is the only product that prevents both calcium and hard silica scales and works extremely well in pool with salt chlorine generators.
Easy Swim Summer Kit Features:
Turns your chlorine pool into a swimmer paradise
Kits lasts 2 months on pools 20,000 to 25,000 gallons
Multitask product that kills and prevents algae, clarifies water and is a booster for chlorine
The most effective surface maintenance available
Strongly sequesters iron, copper, and manganese metals
Extremely effective in hardness levels exceeding 1000 ppm and high silica levels up to 300 ppm
Chlorine stable multi-polymers lasts for months, not weeks
Reduces chlorine use, shocking and other chemical usage
Protects all equipment: pump, filter, heater, water auto-leveler, salt cell, and solar unit
Broad-spectrum algaecide, fungicide, and microbicide
No wait to swim after application
Eliminates many other treatments such as clarifiers and excessive shocking
Low weekly cost pays for itself by reducing other chemical expenses
Very effective even at phosphate levels above 5,000 ppb
Continuous prevention of green, yellow and black algae and kills most algae in 4 to 24 hours
Boosts chlorine's effectiveness up to 6X (600%)
Improves salt cell's chlorine output and performance
Powerful treatment for heavy use and salt cell pools
Eliminates chlorine odors and skin-eye irritation.
One kit will last the average 20,000 to 25,000 gallon pool two months
64 Ounce bottles
Pooltec Dosage Amounts:
Initial Dosage (Clean Water) - Add 1 to 2 cups per 10,000 gallons of water
Initial Dosage (Visible Algae) - Add 1 quart per 10,000 gallon of water
Weekly Dosage - Add 1/2 to 1 cup per 10,000 gallons of water each week
Beautec Dosage Amounts:
Initial Dosage - Add 32 ounces of this product per 10,000 gallons of water
Monthly Follow Up Treatment - Add 5 ounces of this product per 10,000 gallons of water
EasyCare 80564