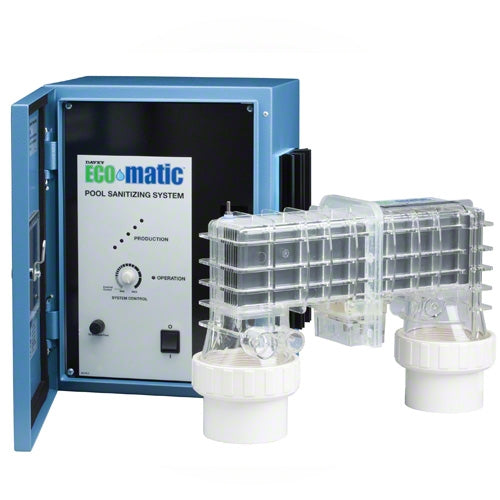 Eco-Matic ESC-MAX Chlorine Generator M4920USA
This item is IN STOCK
This item is TEMPORARILY OUT OF STOCK
Usually Ships Within 1 Business Day
Expedited Shipping NOT Available
Not Available Outside Contiguous US
Item Details
Eco-Matic ESC-MAX M4920USA
This is a high output system with reverse polarity cells that is applicable for large, residential or commercial pools. This robust system ensures 24 hour operation with the greatest value of results. It is conditioned to perform at the top of its class and features state of the art sanitizing technology.
Enjoy effective disinfection all day long and all year round, effectively eliminating bacteria, algae and chloromines. The ECO-matic ESC Max produces mildly salted water which is pleasant for swimmers resulting in no more red eyes, dry itchy skin or smelly swimwear.
ESC-Max Features:
Sanitized salt water chlorination
For large residential or commercial pools and spas
Robust power supply and cabinet for long service life and heavy duty applications
User friendly controls for simple setup and operation
Large, high flow rate cell to handle a higher water flow rate
Self cleaning reverse polarity cell
LED indicators to display cell production, "Low Salt," and "No Flow."
Reliable and dependable design for your peace of mind
No need to store and handle pool chemicals, no chlorine odor or itchy, red eyes or irritated skin.
Mildly salty water that is soft and gentle on skin, as well as therapeutic and beneficial for the body.
Will eliminate the need to continually purchase expensive chlorine chemicals.
Uses salt which is more affordable and readily available.
Sanitizing is automatic and will eliminate manual chemical dosing.
Specifications:
Output of 2.64 Pounds of chlorine per day (50 Grams per Hour)
Input Voltage (ac): 220-240V
Supply Frequency Phase: 50 / 60 Hz
Max Input Current: 2.5 Amps
Power Consumption (at 230V): 0.57 kW
Output to Cell (DC):26-28V / 9A
Ideal Salt Range: 4,500 - 7,000 ppm
Cooling: Fan and Heat Sink
Electrolytic Cell Type: Coated Titanium - Reverse Polarity
Minimum Flow: 170 L/m
Maximum Water Temp (In Cell): 65 Degrees Celsius
Number of Electrodes: 7
Pipe Connections: 80mm/3" or 50mm/2" with adapters
Power Supply Enclosure Dimensions:
Height: 15.7"
Width: 14.6"
Depth: 8.5"
Mounting Holes: 4 Holes at 10.6" W x 12.8" H
Cell Housing Dimensions:
Height: 8.1"
Width: 16.3"
Depth: 4.9"
Inlet/Outlet: 3.5 Actual I.D.
Plumbing Holes: 11 3/4" (from center to center)
Maximum Pool Size Guidelines (X 1000) (U.S. Gallons):
Cool Climate: 211
Temperate Climate: 145
Hot Climate: 129
Note: Be sure that the cell plate surfaces are completely immersed, otherwise damage will occur and reduced cell life will result.
Eco-Matic M4920USA