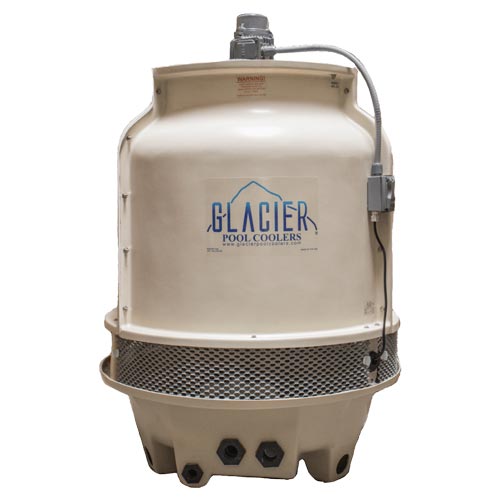 Glacier Pool Cooler GPC260
This item is IN STOCK
This item is TEMPORARILY OUT OF STOCK
Special Order Item - Usually Ships Within 1 to 2 Weeks
Expedited Shipping NOT Available
Not Available Outside Contiguous US
Item Details
Glacier Pool Cooler GPC260
Glacier Commercial Pool Coolers accommodate those big pools that you thought could never get cooled down.
Glacier Pool Coolers are the perfect answer to uncomfortably warm swimming pools. The swimming pool chillers are designed to solve the problem of hot pool water. The Glacier Pool Cooler is a solution that is affordable, easy to install, and inexpensive to operate. Our chillers are powered by an electric fan cooling systems that require NO Freon, No Heat Pump or gas to operate. The pool water circulates through the system, as airflow removes the heat from the water instantly. The chilled water is pumped back into your pool, giving you a refreshing and comfortable feeling while swimming during the hot summer days.
Not only will your pool be refreshing during those hot summer months but your pool water chemistry will be easier to maintain. A 10 degree drop in water temperature (95' to 85') can result in a savings of 20-25% on chemical consumption.
They are "environmentally safe to operate" and are designed for durability and long life, even under the most severe weather conditions. All commercial models are equipped with 3 phase energy efficient motors for low energy costs. Included with every unit are digital temperature control systems to maintain regulated water temperatures.
Glacier Pool Cooler GPC260 Specifications:
For pools up to 275,000 gallons of water
3 Phase, Energy Efficient Motor
Commercial Pool Model
Glacier Pool Coolers are the best available answer to the hot pool water problem because:
It is a fan based system not a Heat pump/Heat exchanger unit, so it does not need Freon or Gas to cause the expenses of operating a Heat pump system.
It is easily incorporated into your pool plumbing system and automated control systems.
It costs pennies a day to operate. If your pool water is hot, then we are the solution to your problem!
How Glacier Pool Coolers work:
After the water passes through the filter, a bypass is installed to the Glacier Pool Cooler. The pressurized water flows over a medium and is chilled by airflow created by the unit's fan. The chilled water is pumped back into the pool through its returns.
Glacier Pool Cooler features:
Swim teams will enjoy consistent and regulated pool water temperatures all year round.
Members of aquatic centers, health clubs, and country clubs that have access to a cooler pool will enjoy exercising and visiting at these facilities.
Guests at Hotels and Resorts will keep coming back or extend their stays at these properties that offer a cooler pool among their amenities. A refreshing pool attracts more guests to the pool area which will increase food and beverage sales at poolside bars and restaurants and gives an edge over competing resorts.
Decreases the pool water temperature 10-12 degrees on average *Results may vary.
Digital temperature control system maintains regulated water temperatures.
Easy installation and maintenance.
Runs with your pool pump and automated systems.
Energy efficient
Electric Powered
Glacier Pool Cooler GPC260