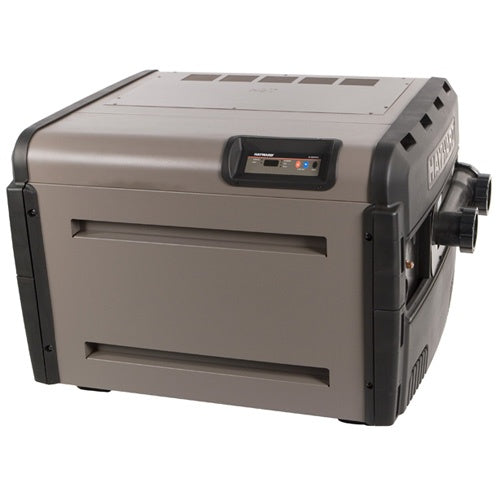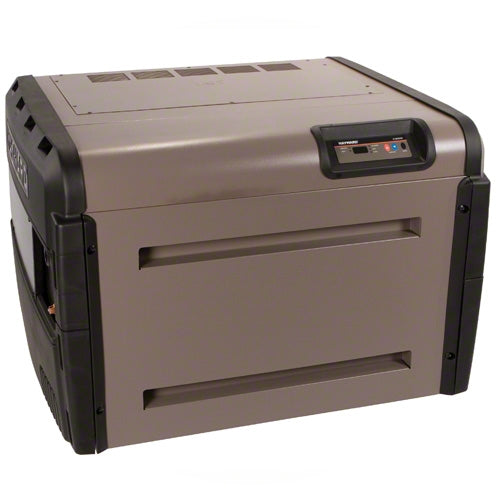 Hayward H-Series 199,900 BTU Heater W3H200FDN
This item is IN STOCK
This item is TEMPORARILY OUT OF STOCK
Usually Ships Within 1 Business Day
Expedited Shipping NOT Available
Not Available Outside Contiguous US
Item Details
Hayward H-Series Heater W3H200FDN
Hayward is always looking for ways to make pool and spa ownership as simple and effortless as possible. The latest example of this is the new Universal H-Series pool and spa heater. Combining advanced technology with universal-fit flexibility, it's a smart choice for virtually any new installation or existing system upgrade- delivering state of- the-industry performance, outstanding energy efficiency, extremely low NOx emission levels and Hayward's legendary durability and reliability.
Universal H-Series Low NOx heater has an industry-leading thermal efficiency and complies with all current California air quality emission standards. The low NOx emission makes it a perfect choice for the environmentally concerned pool owner.
Its hydraulic performance also saves energy by reducing the circulation time of the pump and it can raise the temperature of an 800 gallon pool 30 degrees in less than an hour.
Other advances include stainless steel burners, corrosion-resistant heat exchangers and insulated Fire Tile combustion chambers. This traps the heat unlike other forms of insulation delivering the highest degree of performance from every BTU. Equipped with an LED control panel, it monitors heater performance for added convenience and maximum comfort with minimum effort. The ignition system delivers dependable lighting and reliable operations with just a touch of a button. The forced draft system constantly moves air through the combustion chamber to eliminate all outside weather variables affecting heating performance, such as wind conditions, eliminating the need to install a high-wind stack.
A choice of left-side or right-side electric, gas and water connections gives Universal H-Series heaters unprecedented installation flexibility. This enhanced adaptability- coupled with lightweight design, modern low-profile appearance and only front panel access required for installation and service- ensures compatibility with virtually all new or existing systems and equipment pad conditions.
H-Series Heater Features:
199,900 BTU Heater
Natural Gas
110 Volt / 220 Volt
Cupro Nickel Heat Exchanger Standard - Totally Managed Flow provides exceptional corrosion resistance and erosion protection. Ideal for today's salt-based electronic chlorination systems.
Superior Hydraulic Performance - Industry-leading hydraulic performance saves energy by reducing circulation pump run time.
State-of-the-Art Finn Plate Heat Exchanger - State-of-the-industry Finn Plate heat exchanger with special V-groove design for faster heating and longer life.
Insulated Fire Tile Combustion Chamber - Unlike older forms of insulation, Fire Tile securely traps the heat, delivering the most performance from each BTU.
Hot-Surface Silicon Nitride Ignition System - Exclusive silicon nitride ignition system for dependable lighting and reliable operation.
Dual Voltage - Installation is simplified with voltage that adapts to either 110V or 220V.
Universal Wiring Junction Boxes - High and low voltage connections are easy and convenient with left and right side junction boxes.
Digital LED Control Panel - Electronic control/ display maintains water temperature; monitors heater performance with self-diagnostic capability.
Low NOx Emissions - Environmentally responsible; complies with all current California and Texas air quality emission standards.
Hayward H-Series new polymer header provides superior hydraulic performance to save energy and protect against the damaging effects of erosion from high flow conditions for improved reliability.
Designed for today's larger diameter plumbing systems with 2" X 2-1/2" CPVC Unions.
Forced draft system constantly moves air through the combustion chamber at a precise flow rate, eliminating all outside weather variables that can effect the heater performance, such as high wind conditions - without a high wind stack.
H-Series patented single header "V" baffle design heat exchangers allow for long life, fast heating and virtually no condensation. All Hayward heat exchangers are now constructed with highly resilient Cupro Nickel for greater durability and longevity even in salt-based, high flow or aggressive water chemistry set ups.
Dimensions:
25" Wide X 29-1/2" Depth X 24" Height
Hayward W3H200FDN