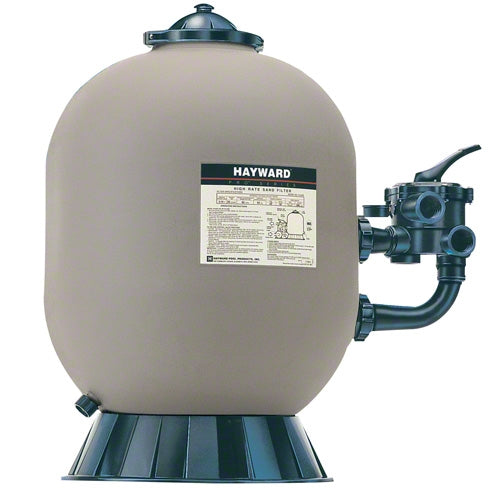 Hayward ProSeries Side Mount Sand Filter W3S310S
This item is IN STOCK
This item is TEMPORARILY OUT OF STOCK
Usually Ships Within 1 Business Day
Expedited Shipping NOT Available
Not Available Outside Contiguous US
Item Details
Hayward ProSeries Side Mount Sand Filter W3S310S
The ProSeries Side Mount Sand Filter uses High-Rate flow technology which is the most innovative in sand filter technology. You will experience a completely balanced flow and efficient back washing system because of the durable, corrosion-proof polymeric material, as well as the self-cleaning lateral under-drain system. The applications served by this filter include In-ground pools of all types and sizes, In-ground spas (residential or commercial), and water features such as fish ponds, fountains, and water gardens. Low-maintenance and an out-come of crystal clear water are some of the major reasons why pool professionals choose ProSeries filters first! The flanged inspection cover provides convenient access to the top of the filter. The large pressure sand and water drain contributes to rapid winterizing or servicing, making it feel like no work at all. Obtaining this filter will assure that you sustain an effortless feel of up-keep.
Four valve options are available separately, including a six-position Hayward Vari-Flo control valve with easy-to-use lever-action handle functionality. An integral sight glass lets you see when backwash cycle is completed, therefore maintaining convenient access and minimal care. Yes, the self cleaning laterals will take complete care of any worries about what may or may not be growing inside your filter. The laterals are precision engineered with an umbrella-fold, and will make use of every function included in this filter with the highest rate of cleanliness, time management and quality assurance.
ProSeries Filter Features:
30-1/2" Sand Filter Tank
4.91 Square Foot Effective Filtration Area
98 Gallons Per Minute Flow Rate
47,040 Gallons Turnover in 8 Hours
Durable, flanged inspection cover on top side of filter.
Top diffuser ensures even distribution of water over the top of the sand media bed.
Automatic air relief purges any trapped air during operation of the filter system.
Unitized, corrosion-proof filter tank molded of rugged, colorfast polymeric material for dependable, all weather performance.
Large pressure sand and water drain.
Precision engineered umbrella-fold self cleaning laterals for balanced flow and back-washing, plus easy serviceability.
500 pounds of sand are required (not included).
Filter Dimensions:
30-1/2" Width X 40" Height Sand Filter.
Valve Options (Sold Separately):
1-1/2" FIP Vari-Flo Valve with Six-Positions - Filter, Backwash, Waste, Recirculate, Rinse and Closed. SP0710X62
2" FIP Vari-Flo Valve with Six-Positions - Filter, Backwash, Waste, Recirculate, Rinse and Closed. SP0715X62
2" SKT Slide Valve with Two-Positions - Filter and Backwash. SP0410X602S
1-1/2" SKT x 2" SLIP Coupling (2) - Filter position only. DE2400PAK2CS
Hayward W3S310S