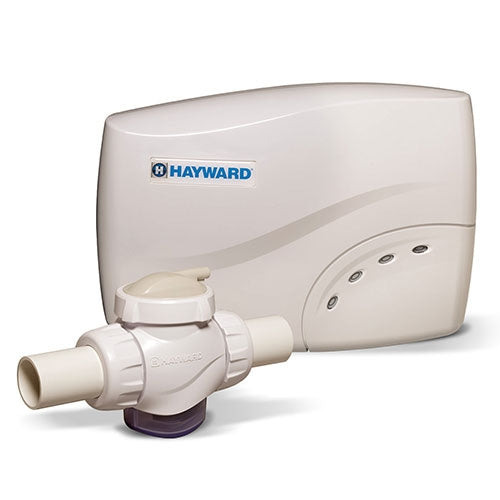 Hayward Salt and Swim 3C Pro Control Unit
This item is IN STOCK
This item is TEMPORARILY OUT OF STOCK
Usually Ships Within 1 Business Day
Expedited Shipping NOT Available
Not Available Outside Contiguous US
Item Details
Hayward Salt and Swim 3C Pro Control Unit
Salt and Swim 3C Pro provides complete pool and spa sanitization by converting ordinary salt into 100% pure available chlorine. And because salt doesn't wear out or evaporate, it's used over and over to make your supply of fresh chlorine virtually endless.
A well maintained cell (Sold Separately) will produce 200 lbs of 100% pure available chlorine which is equivalent to bucketloads of Trichlor and a ton (literally) of liquid chlorine.
The amazing benefit of salt chlorination is that it automatically delivers a more natural approach to chlorinating your pool. Imagine the comfort of soft silky water that won't turn your eyes red, dry out your skin and hair, or bleach clothing and toys. Better still, salt chlorination eliminates that harsh chlorine odor associated with factory-produced chlorine. Your unbeatable, luxurious, goggle-free experience awaits.
Features:
Salt and Swim Control Unit Only (Cell Sold Separately)
Best water quality available
Each cell can produce up to 200 pounds of chlorine (sold separately)
Conveniently delivers up to 1.2 pounds of chlorine a day
Can operate at flow rates as low as 15 gallons per minute
3 Year Manufacturers Warranty on Control Unit
Fittings for 1 1/2" and 2" Plumbing
ETL and CETL
Installation Requirements:
In-ground swimming pool must be no more than 30,000 gallons.
120 Volt GFCI outlet within 18 feet of pool equipment pad (Note: power cords should not be placed on active walkways).
Requires 10" of straight pipe on the SAS Model and 11.5" of straight pipe on the SAS-PRO Model after all the pool equipment (i.e. filter, heater, etc.) for install.
Hayward W3SAS-PRO