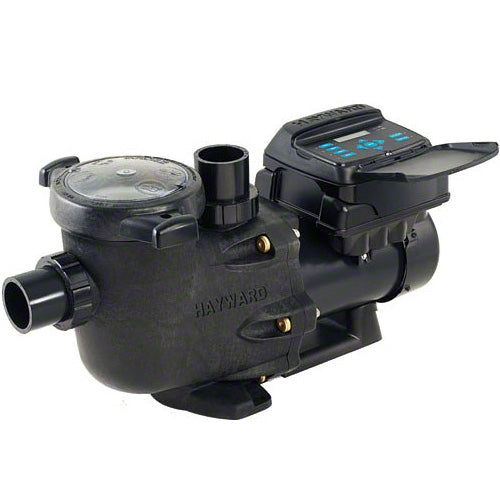 Hayward TriStar VS Pump - 1.85 HP
This item is IN STOCK
This item is TEMPORARILY OUT OF STOCK
Usually Ships Within 1 Business Day
Expedited Shipping NOT Available
Not Available Outside Contiguous US
Item Details
Hayward TriStar VS Pump
The TriStar VS pump is the ideal choice to replace any 1.5 hp or 2.0 hp pump with an energy efficient variable speed pump. Variable Speed pumps save you money by saving energy. They can save you as much as 80% in energy costs compared to standard single speed pumps. The advanced motor design features a permanent magnet, totally-enclosed fan cooled (TEFC) design that provides incredible energy efficiency and reliability. They are also incredibly quiet, especially at energy-saving, lower speeds.
The integrated, programmable Interface allows you to customize the pump speed, duration, and priming time while monitoring power consumption. The integrated, programmable interface has a 24 hour programmable clock and you can set up to 8 customer timer functions. You can rotate the interface to four positions on the pump, so you can read it no matter what direction it has to be installed.
The TriStar VS is perfect to replace an existing pool pump or during new construction. It will run great on both swimming pools, hot tubs and water features such as fountains and waterfalls..
TriStar VS Features:
Includes the pump and digital user interface
1.85 Horsepower, Variable Speed Motor
Speed Range of 600 - 3450 RPM
230 Volt Operation
2" X 2-1/2" Unions (accepts 2" or 2-1/2" plumbing).
Superior pressure testing of up to 50 psi.
Latest hydraulic design for increased efficiency.
See-through strainer cover and large leaf basket.
Self-priming pump with a suction lift of up to 8 feet above water level.
Programmable interface allows you to customize speed, duration and priming time.
On-board diagnostics and automatic protection for priming failures, temperature extremes and voltage fluctuations.
Power consumption display to help you maximize your energy savings.
Includes a separate base to align with Pentair WhisperFlo Pumps, Sta-Rite Max-E-Glas, Max-E-Pro and Dura-Glas for simple retrofit upgrades.
Energy efficient, permanent magnet motor.
You can mount the digital interface on the wall for added convenience with the optional Wall-mount Kit SPX3400DRKIT (sold separately).
Title 20 and APSP-15 Compliant
Hayward W3SP3202VSP