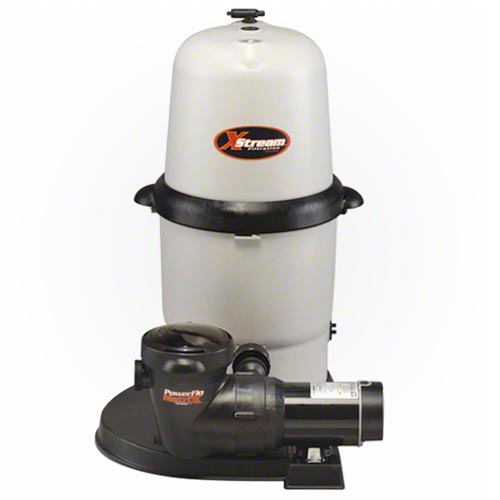 Hayward XStream Filtration System W3CC15093S
This item is IN STOCK
This item is TEMPORARILY OUT OF STOCK
Usually Ships Within 1 Business Day
Expedited Shipping NOT Available
Not Available Outside Contiguous US
Item Details
Hayward XStream Filtration System W3CC15093S
Hayward's XStream Filtration System comes complete with a PowerFlo Matrix Pump and XStream Cartridge Filter and is designed for above-ground pool applications. The extra large filter body ensures an equal distribution of dirt and debris throughout the filtering element ensuring a longer more efficient filtering life. The EasyLok ring design gives you single-turn access to all internal components. It can be plumbed using either flexible or rigid plumbing.
Once you see the XStream Filtration from Hayward, you'll be hooked. Its massive size and incredible performance mean years of trouble-free filtration. It has an extra-large capacity for dirt and debris and a quick-release, high-capacity air relief valve. But size isn't the only thing this filter's big on.
The XStream Filtration makes daily operation and servicing more convenient than ever before. It's engineered to install easily with both flexible and rigid plumbing. Plus, the EasyLok ring design gives you quick access to all internal components in a single turn. And the glass-reinforced, noncorrosive filter tank ensures long-lasting, hassle-free operation.
The PowerFlo Matrix Pump features an industrial-size strainer basket to collect a lot of debris without a lot of maintenance. It's there to collect and protect. The high-quality impeller offers wide openings to prevent leaf and debris clogs. While this pump is impressively equipped, the PowerFlo Matrix is also very efficient. It has a heat-resistant, double-size seal and a protected rear-mounted switch for high energy efficiency. Plus, its heavy-duty, high performance motor provides years of trouble-free operation thanks to an integrated automatic thermal overload protector.
XStream Filter System Specifications:
Pump Type: Hayward PowerFlo Matrix
Filter Type: Hayward XStream Cartridge Filter
Horsepower: 1.5 HP
Speed: Single
Effective Filtration Area: 150 Square Feet
Filter Design Flow Rate: 150 Gallons Per Minute
Voltage: 115 Volts
Cord Length: 3 Foot
Also Includes: (2) 1-1/2" X 6' Filter Hoses, Hose Adapters, Hose Clamps, Pump and Filter Base and Union Connections
XStream Filter System Features:
Excellent filtration system for above-ground pools
Can be used with flexible filter hoses or PVC pipe
Filter pressure gauge that is flush mounted
Air release valve with quick release system
Non-Corrosive filter tank
Easy-Lok filter tank ring for easy access
Safety catch system prevents you from over-tightening the filter lid
Heavy duty filter cartridge
Massive pump strainer basket
Quick disconnect intake and discharge
Specially designed impeller prevents clogging
Integrated drain plug
Hayward W3CC15093S