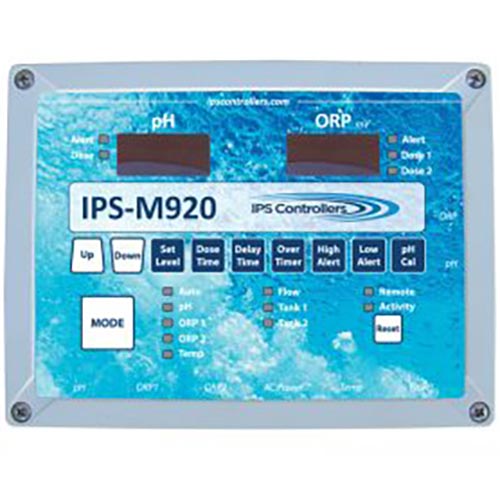 IPS M920 Automated pH and Dual ORP Controller
This item is IN STOCK
This item is TEMPORARILY OUT OF STOCK
Usually Ships Within 1 Business Day
Expedited Shipping NOT Available
Not Available Outside Contiguous US
Item Details
IPS M920 Automated pH and Dual ORP Controller
IPS M920 Automated pH and Dual ORP Controller take the guess work out of maintaining a healthy, clean, and chemically balanced pool. Using advanced technology, these controllers take care of the chemical science for you by monitoring, adjusting, and dispensing the right amount of chemicals. This ensures optimal sanitizer levels with less effort while reducing water and chemical waste for pools, spas, and water features of all sizes, including those at hotels, condominiums, aquatic centers, schools, public facilites, and homes. This gives you more time to sit back and enjoy your pool or spa.
Controllers are easy to install and simple to use. Each kit comes with the controller and a mounting board and can easily be hung right out of the box. Simply connect your plumbing and you're ready to go! The kit also includes flow cell, probes, temp. sensor, tubing (25'), fittings, and in-line filter. The system is easy-to-use with a LED digital display and no long menus to sift through. With the press of a button, you can easily adjust whatever you need. Install the app and you can quickly check in on your pools chemical activity from wherever you are.
All IPS Controllers are NSF certified, allowing you to comply with the highest level of code requirements. Controllers are compatible with all sanitizing methods and are guaranteed reliable, backed by a 5-year limited warranty.
Standard IPS Controller Features:
NSF Certification
Set pH level at 7.0 - 8.0
Alert settings when chemicals are high or low
LED digital display for readout and alarm
Simple high/low push button alert adjustment
Timed or continuous dose rate
110 VAC electrical input/output
Pre-mounted system for easy install
Compatible with all sanitizing methods
Can be used with Muriatic Acid or CO2
IPS M920 pH and Dual ORP Controller Unique Features:
Temperature monitoring and display
Web-based remote monitoring and programming
Lock-out feature
Dual ORP, for secondary sanitizer
2 tank level inputs
1-99 minutes delay time option
110V, 230V electrical output and dry contact
230VAC electrical input/output
Push button overfeed adjustment
Gold-tipped ORP probe for salt pools
Set ORP level of 400-900
Kit Includes:
Controller
Flow Cell
Probe
Tubing (25')
Fittings
In-Line Filter
Small Mounting Board
IPS Controllers IPS-M920