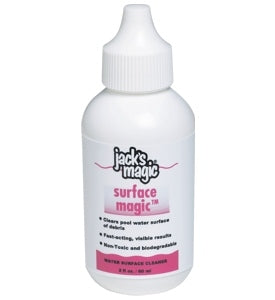 Jacks Magic Surface Magic
This item is IN STOCK
This item is TEMPORARILY OUT OF STOCK
Usually Ships Within 1 Business Day
Expedited Shipping NOT Available
Not Available Outside Contiguous US
Item Details
Jacks Magic Surface Magic - 2 Ounce
A time-saving highly effective way to remove debris from you pool water surface. When used as directed, Surface Magic will quickly clear your pool water's surface of dirt, grass clippings, leaves, oils, bugs, and other floating debris, making clean up easy. When you add the drops, all of the surface debris will accumulate into one corner of your pool and will make cleaning it out with your net a snap. You will no longer have to chase individual pieces of debris around your entire pool with a net. Surface magic also works great in lakes, ponds, and rivers.
Features:
Clears debris on the surface of your pool
Makes scooping leaves and other debris using your net extra easy
Saves a ton of time by bringing all surface debris together for easy removal
Uses only a small amount per use
Directions for use:
1. Turn off pool pump.
2. Apply 2 drops of Surface Magic directly to water surface for every 100 square feet of pool water or the area to be cleaned. (for example, in a 16' X 32' (512 square feet) pool you would add 10 drops.
3. If used in a lake, river or large pool be sure to place drops upwind or up current.
4. Allow Surface Magic approximately 10-15 minutes to clean treated water surface.
5. If not completely clean after first application, repeat step 1.