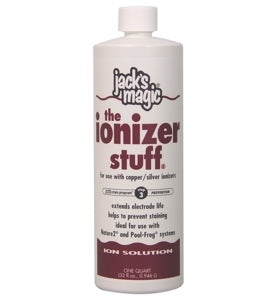 Jacks Magic the ionizer stuff
This item is IN STOCK
This item is TEMPORARILY OUT OF STOCK
Usually Ships Within 1 Business Day
Expedited Shipping NOT Available
Not Available Outside Contiguous US
Item Details
Jacks Magic the Ionizer Stuff - Quart

The Ionizer Stuff is designed to be used with copper and silver ionizers and will extend the electrode life and help to prevent staining. Ideal for use with pools using Nature2 and Pool Frog systems.

The Ionizer Stuff was created especially for use with alternative sanitizers using copper and/or silver. Unlike a sequestering agent, which removes metals from the water, the Ionizer Stuff helps to hold metal ions in solution. The Ionizer Stuff is designed to be used within normal water balance parameters. Safe to use with all pool finishes.

Directions for use:

Add 16 ounces per 10,000 gallons of pool water or approximately 1.5 ounces per 1,000 gallons.
Prevention:
The performance of The Ionizer Stuff is directly related to the following:
1- Proper circulation of the swimming pool water: it should take no more than 8 hours for the water to turn over. Operating time of the filter must provide 1 to 1.5 turnovers per day.
2- A clean filter: clean filter thoroughly before initial application.
3- Balanced water: pH, total alkalinity, and calcium hardness levels need to correspond with the ionizer manufacturer's requirements.