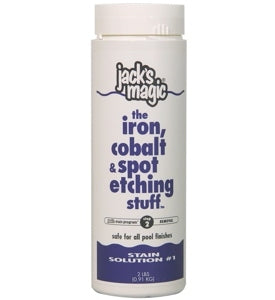 Jacks Magic The Iron, Cobalt and Spot Etching Stuff
This item is IN STOCK
This item is TEMPORARILY OUT OF STOCK
Usually Ships Within 1 Business Day
Expedited Shipping NOT Available
Not Available Outside Contiguous US
Local purchase only (Ogden, UT or Las Vegas, NV)
This item is IN STOCK
This item is TEMPORARILY OUT OF STOCK
Pickup or Local Delivery Only
This product cannot be shipped. If you live within our local delivery range, you can choose to have the product delivered to your door, or you can pick it up in store. See below for our location information.
---
Ogden
Sunplay - Ogden
1075 S Depot Drive
Suite 1
Ogden, UT 84404
Store hours:
9am - 5pm, M-F
Item Details
Jacks Magic The Iron, Cobalt and Spot Etching Stuff

The Iron, Cobalt and Spot Etching Stuff is part of a comprehensive stain and removal prevention system that removes iron, cobalt and sport etching stains. This product is non-acidic and non-aggressive, and is safe for all pool finishes. The Iron, Cobalt and Spot Etching Stuff replaces the need to drain and acid wash pool finishes.

Directions for use:
1. Turn pool pump on and chlorinator off.
2. Lower chlorine level to just below 1.0 ppm
3. Add 1 quart of Jacks Magic The Blue Stuff, or The Pink Stuff (with salt systems or high TDS, substitute with The Purple Stuff) per 10,000 gallons of water.
4. The use of The Filter Fiber Stuff will help enhance filtration during the stain removal process.
5. Add 2 lbs of The Iron, Cobalt and Spot Etching Stuff per 12,000 gallons of water. Broadcast over stained area.
6. Circulate pool for 48 hours or until stains are removed.
7. Clean filter and slowly begin re-chlorination and re-balancing of total alkalinity (use only sodium bicarbonate to raise alkalinity).
8. Do not shock for at least a week after treatment.
Note: Do not swim for the duration of the treatment due to low chlorine levels.

Jack's Magic Stain Solution #1. The Iron, Cobalt & Spot Etching Stuff.